Recipes
This month, Marcia and Ray want to help you prepare for your Super Bowl party! They've shared three tasty treats your party guests will love...
Tex-Mex Chicken Cups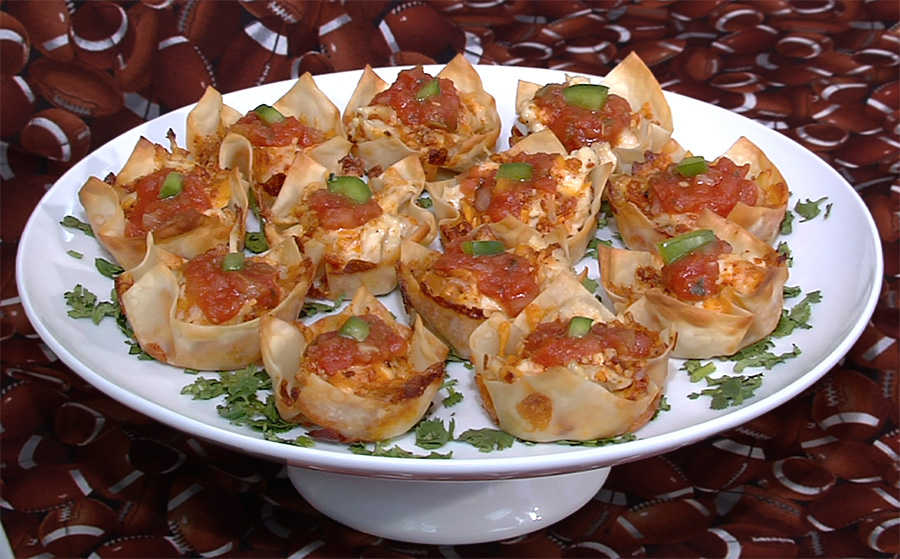 INGREDIENTS
1 1/2 pounds cooked chicken, shredded (Rotisserie Chicken works well)
1 cup ranch style dressing
2 cups shredded Monterey Jack cheese
2 tablespoons taco seasoning mix
1 package wonton wrappers (24 to the package)
Salsa, optional
DIRECTIONS
1. Preheat oven to 350º.
2. Combine chicken and dressing in a bowl and set aside.
3. Combine cheese and taco seasoning in a bowl and set aside.
4. Place wonton wrappers in muffin cups and brown lightly in oven for 5 minutes (or until lightly browned).
5. Spoon approximately 1 tablespoon of the chicken mixture in each wonton cup and sprinkle with cheese mixture.
6. Return to oven and bake 5 to 10 minutes or until heated through.
Makes about 24.
Shrimp Dip
INGREDIENTS
1 package (8 oz.) cream cheese, softened
3 tablespoons milk
1 teaspoon garlic powder
1 can (4 oz.) tiny shrimp
1 teaspoon chopped fresh tarragon or dried
1 tablespoon each chopped green & orange bell pepper
DIRECTIONS
1. In a small bowl combine cream cheese, milk, garlic powder.
2. Gently stir in remaining ingredients.
3. Cover and refrigerate until ready to serve.
4. Serve with crackers or fresh vegetables.
Peanut Butter & Jelly Brownies
INGREDIENTS
1/2 cup butter, softened
1/2 cup sugar
1/2 cup firmly packed brown sugar
1/2 cup chunky peanut butter
1 egg
1 teaspoon vanilla extract
1 1/4 cups all purpose flour
3/4 teaspoon baking soda
1/2 teaspoon baking powder
2 cups peanut butter chips, divided*
1 cup strawberry jam
* these can be found in the baking aisle with the chocolate chips
DIRECTIONS
1. Preheat oven to 325º.
2. Beat butter until smooth, then gradually add sugars, beating well.
3. Add peanut butter, egg and vanilla, mixing well.
4. In a separate bowl combine flour, baking soda and baking powder, then add this to the butter mixture. Set aside 1 cup of this dough mixture to use later.
5. Stir 1 cup of peanut butter chips into remaining mixture and press into the bottom of a 13 x 9 inch pan.
6. Spread jam evenly over dough.
7. Crumble the remaining cup of the dough mixture and sprinkle over jam.
8. Sprinkle the remaining cup of peanut butter chips over top.
9. Bake 30-40 minutes until golden.
10. Cool completely, then cut into bars or squares before serving.
Makes 2-3 dozen