GFB News Magazine
Norton cousins sweep state goat and lamb shows
Article and photos by Jennifer Whittaker
First cousins Lily and Tanner Norton of Grady County are well known on Georgia's goat and lamb show circuits. They've shown a cumulative 19 years – Tanner for 10 and Lily for nine.
This year they made history by becoming the only first cousins to win all three species grand championship awards at the Georgia Jr. Market Goat Shows (Doe & Wether) and Georgia Jr. Market Lamb Show.
Lily is the daughter of Chad & Brandi Norton of Cairo. Tanner is the son of Clay & Cindy Norton of Cairo.
The 2020 shows were held Oct. 9-11 at the Georgia National Fairgrounds in Perry. To comply with COVID-19 health recommendations, shows were held as private events open only to exhibitors, their immediate families and project support staff. The shows were livestreamed on Walton Webcasting thanks to Georgia Farm Bureau's sponsorship.
Lily, a senior at Cairo High School, won both the Market Wether Grand Champion prize of $1,500 and the Market Doe Grand Champion prize of $1,500. Tanner, a sophomore at Cairo High, won the Market Lamb Grand Champion prize of $1,000. Both Lily and Tanner showed as Grady County 4-Hers.
GFB sponsored the grand champion prizes for the goat and lamb shows. GFB was also a premier livestock sponsor for the Georgia National Fair shows.
The double win was especially sweet for Lily who participated in the fall shows for the last time as a student.
"I'm so thankful for the family and friends who have got me this far. It's a great way to end my senior year," Lily said. "When they canceled the fair, I was scared the shows might be canceled. I was very thankful to the fairgrounds and state of Georgia for letting us show since for a lot of us it is our senior year."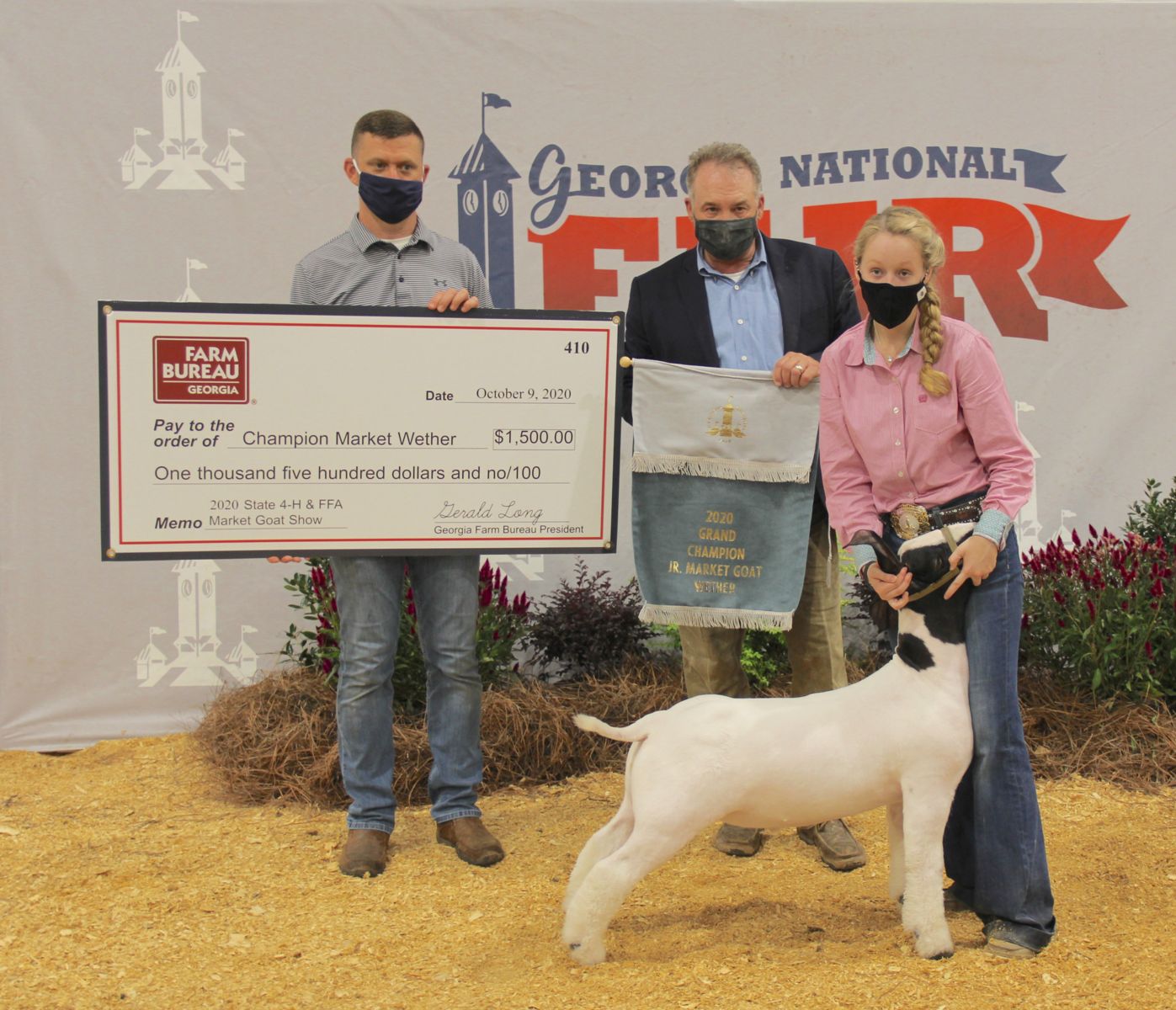 Georgia Farm Bureau Assoc. Director of Field Services Clay Talton presents Lily Norton the $1,500 prize for the wether show while show judge Steve Sturtz presents the show banner. Lily also received a $1,500 prize for her grand champion doe.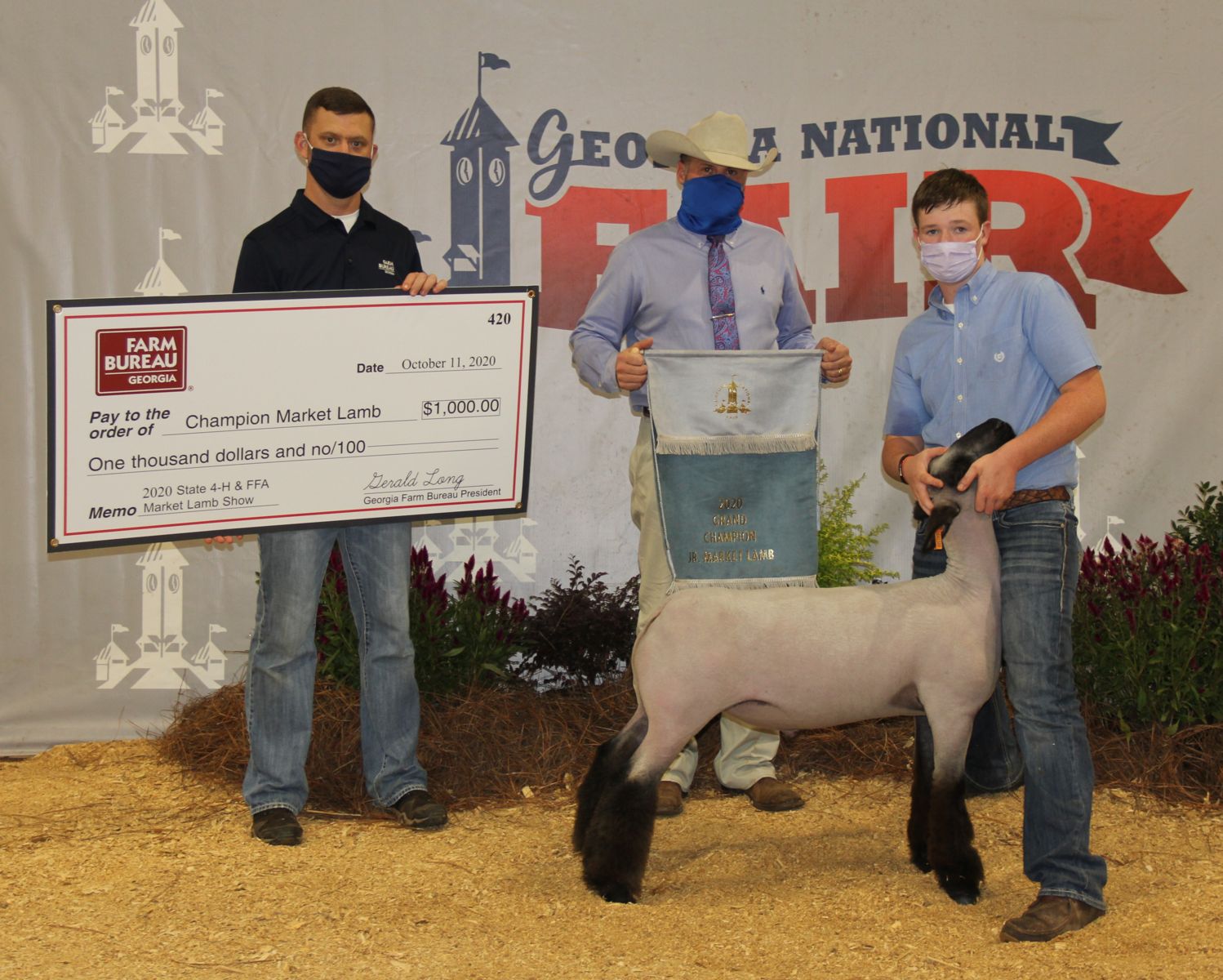 Director of Field Services Clay Talton presents Tanner Norton the $1,500 prize while show judge Steve Sturtz presents the show banner.
Tanner is no stranger to the winner's circle. He won the grand champion market wether award in 2019 and grand champion market doe and lamb awards in 2018. "Picking good animals and working them every day," is his secret for winning.
The market goat show attracted 308 4-H and FFA members who showed 550 goats. The market lamb show drew 172 exhibitors who showed 342 lambs.
---
Posted: 11/07/2020 in Livestock shows
---
Comments:
No comments have been posted.
HTML not allowed, max characters 255, * denotes required field.