GFB News Magazine
The Original Supernut
ByJennifer Whittaker
The rest of the U.S. will soon learn some things Georgians have known for years. Pies aren't the only way to eat pecans. Pecans are good for you. Pecans are locally grown!
On April 25, the American Pecan Council (APC) launched its national campaign to brand pecans with the slogan "American Pecans, The Original Supernut." The campaign is intended to get consumers thinking outside the pie pan when it comes to pecans.
"The American pecan industry has a rich history dating back centuries and a powerful story that is largely untold. Our goal is to change that," said Mike Adams, a Texas pecan grower who chairs the APC.
Campaign strategy
Public relations firm Weber Shandwick is coordinating the national marketing campaign based on consumer research that showed top-of-the-mind recall of pecans was significantly lower for pecans (15 percent) compared to other nuts. The survey of 1,500 consumers, half female, half male, ages 25-64, also showed most consumers associate pecans with desserts while other nuts were more likely to be linked to snacking and nutrition.
"Our objective is to broaden the appeal for pecans as more contemporary and preferred as an everyday snack or versatile cooking ingredient," Adams said. "There's a real sense of optimism among pecan growers and shellers for what this campaign can do."
The APC campaign will focus on three reasons pecans are The Original Supernut: pecans are super nutritious; pecans are super versatile; and pecans are super local.
Did you know that a handful of pecans (about 19 halves) is a great source of fiber, "good" monounsaturated fats, protein, zinc and manganese?
Pecans may be most associated with holiday pecan pies, but consumers will soon learn pecans make great toppers for oatmeal, yogurt or salads and can be used in appetizer, pasta, and numerous entrée recipes.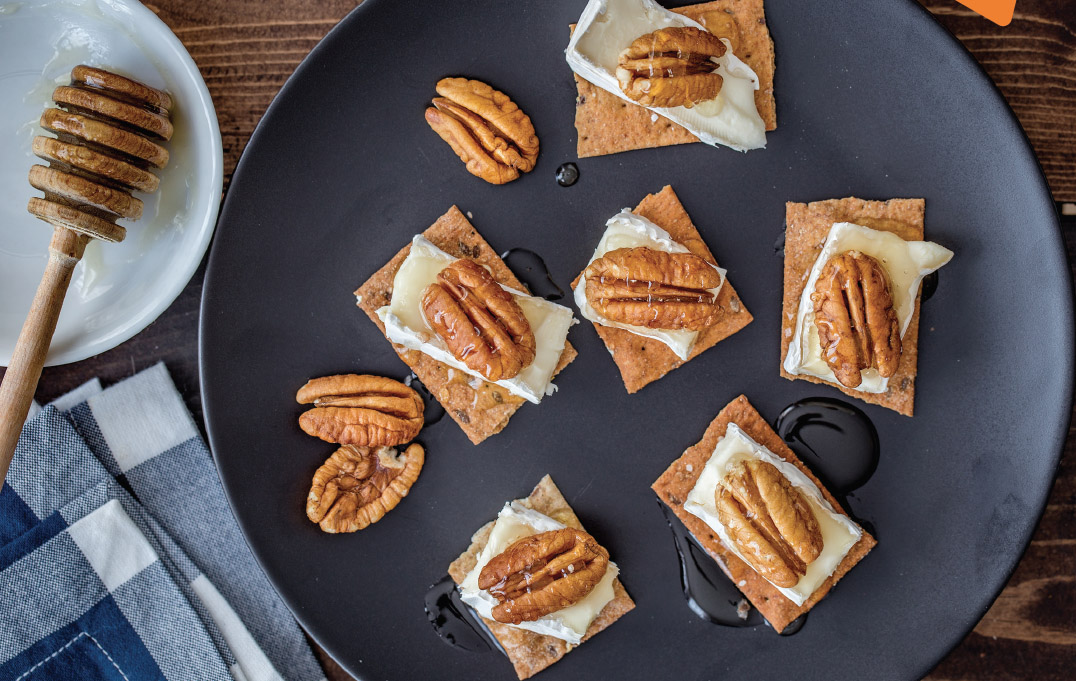 The American Pecan Council has launched a national campaign to brand pecans as "The Original Supernut" with consumers nationwide. Look for unique recipes like Pecan Brie Honey Crostini to be mentioned by food bloggers and appear on cooking shows. Visit www.americanpecan.com for this recipe and others or to learn about the APC.
The campaign will highlight that pecans are the only major tree nut native to America and are commercially harvested in a 15-state growing region that runs across the Southern part of the U.S. from the east to west coast.
"We are absolutely delighted to be working with this industry," Weber Shandwick Sr. Vice President Sarah Yaffee told pecan producers attending the Georgia Pecan Growers Association conference March 27. "We're promoting pecans on social media platforms and preparing for any crisis management issue that might arise. We measure our progress every day in terms of how well does one recipe track with consumers over another. We are very cognizant of how significant your assessment dollars are."
Yaffee said the firm has already reached 145 million people with only a few months of preliminary outreach before the campaign began in April.
The campaign includes digital advertising and national media integration via media partnerships and social media influencers to promote the health benefits of pecans. The APC is teaming up with two of America's top digital platforms, Serious Eats and Simply Recipes, which will feature "shoppable" pecan recipes that make it easy for consumers to buy pecans via Amazon Fresh – a first for a commodity board.
Grower driven
Pecan growers and shellers in the states where pecans are commercially grown – Georgia, Alabama, Arkansas, Arizona, California, Florida, Kansas, Louisiana, Missouri, Mississippi, North Carolina, New Mexico, Oklahoma, South Carolina and Texas – passed a referendum in 2016 to fund a federal marketing order (FMO) that created the APC and will fund the marketing campaign. The pecan FMO is patterned after those U.S. almond and walnut growers have had for years.
Georgia is well-represented on the APC. Trent Mason of Fort Valley, Buck Paulk of Ray City and Molly Willis of Albany represent various sized growers for the APC Eastern Region which consists of Georgia, Alabama, Florida, North and South Carolina. Jeff Worn of Valdosta and Larry Willson of Albany represent shellers for the eastern region. Angie Ellis of Vienna, Randy Hudson of Ocilla and Claire Powell of Bainbridge are grower alternates. Kenny Tarver of Glennville is a sheller alternate. The APC office is in Fort Worth, Texas.
The national pecan campaign is being funded by an assessment the APC collects from growers who produce 50,000 pounds of inshell pecans or more in the last four years or have 30 acres or more of pecans. The APC assessment rate is 3 cents per inshell pound on improved pecan varieties and two cents per inshell pound on native, seedling and substandard pecans.
U.S. pecan growers annually harvest about 300 million pounds. Georgia pecan growers usually average an annual harvest of about 100 million pounds or one-third of the national crop.
In comparison, U.S. almond growers produce around 2 billion pounds annually and U.S. walnut growers harvest about 1 billion pounds a year. Almonds and walnuts have had federal marketing orders for decades that are attributed with increasing demand for the nuts.
U.S. pecan growers have planted thousands of acres of new trees in recent years due to increased demand for pecans from China and an expected increase in demand here.
Ott to lead APC
In related news, the APC announced May 8 that Alexander Ott of California will begin serving as executive director of the council July 1. Ott will oversee the APC's domestic marketing and research programs for pecans along with the council's efforts to collect industry data, oversee pecan grades, standards and packaging as outlined by the federal marketing order for pecans that established the APC.
Ott was serving as executive director of the California Apple Commission, the California Olive Committee and the California Blueberry Commission when he was selected to lead the APC. He has 14 years of experience working with agriculture commodity organizations, which includes serving as director of government relations for the California Grape & Tree Fruit League. Prior to that, Ott represented California Assemblyman Mike Briggs on agriculture and water policy. He also served as a field representative for former U.S. Rep. John Doolittle (R-Calif.) and California Assemblyman Keith Olberg.
---
Posted: 06/14/2018 in Uncategorized
---
Comments:
No comments have been posted.
HTML not allowed, max characters 255, * denotes required field.