GFB News Magazine
Georgia National Fair to feature live cow & sow births
By Jennifer Whittaker
Dairy cows bred in January and sows that will be bred in June will be the star attractions at this year's Georgia National Fair (GNF). People who have never seen a cow or sow give birth will be able to watch the miracle at the Georgia Grown Baby Barn.
Members of Georgia's livestock community, GNF Directors and state officials gathered April 11 for a groundbreaking ceremony for the new facility being built at the Georgia National Fairgrounds & Agricenter in Perry.
"It's a ginormous undertaking because we're dealing with live cows and swine," Ga. Dept. of Agriculture Marketing Director Jack Spruill said of the plans to have one cow calve each day of the fair and five sows farrow throughout the fair.
Spruill said there will be an app fair attendees can download to their phones to receive notifications when a birth is eminent.
"We get asked 'What time do I come see the babies being born?' " Spruill said. "The answer is 'Lord only knows!' "
Spruill said the GDA opted to spotlight the live births of dairy calves and piglets after visiting the Minnesota State Fair, which has had a birthing center for several years.
"Mama cows delivering a baby calf score a 10 with the crowd in Minnesota while a sow is a seven," Spruill said. "It surprised me that sheep only score a two or three. So, the obvious choice was to have cows and sows."
The GDA will feature dairy cows in the birthing center since they have daily interaction with people in the milking barn and are less likely to be spooked by the many fairgoers expected to gather to watch them calve. The cows will come from a Middle Georgia dairy.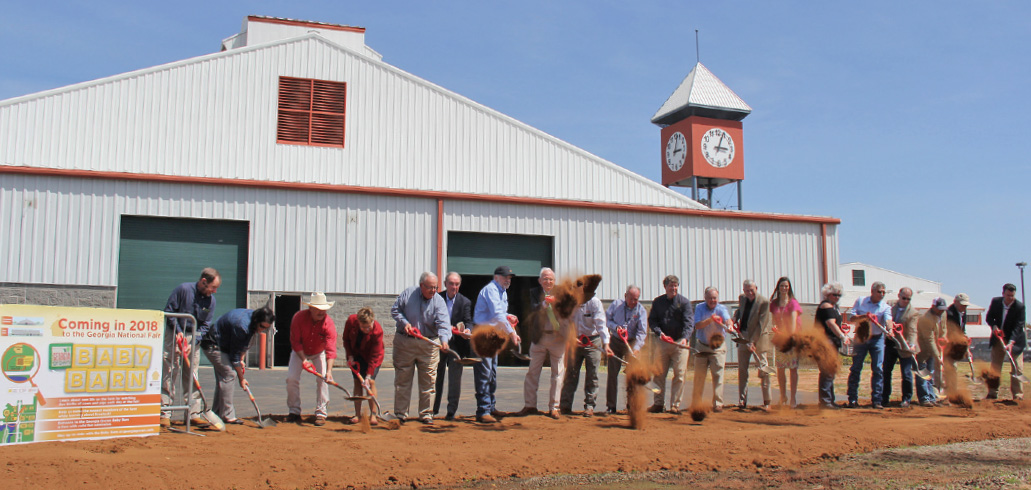 A groundbreaking ceremony for the Georgia Grown Baby Barn being built at the Georgia National Fairgrounds & Agricenter was held April 11. For more photos, visit www.gfb.photos/babybarngroundbreaking.
Spruill said the sows will give birth in farrowing crates.
"I grew up in the hog business," Spruill said. "There's nothing more disheartening than to have a sow lay on her piglets. There is no livestock producer who doesn't care for and love their livestock because the animals are their livelihood."
The baby barn is expected to have bleacher seating for up to 300 people, Spruill said, but standing room and a projection screen will accommodate up to 800 people. The baby barn will be staffed with veterinarians at all times to monitor the animals and assist with the births if needed.
"I wasn't completely sold on this barn until I visited the fair in Minnesota and saw their [birthing] barn," Georgia National Fair Executive Director Stephen Shimp said. "When the first calf dropped and I heard the crowd erupt like the [UGA] stadium in Athens, I was sold."
The Georgia General Assembly approved legislation in 2017 that cleared the way for the $2.4 million birthing center to be financed by bonds.
"Georgia is incredibly fortunate to have legislators who support Georgia agriculture. We're also fortunate to have Gov. Nathan Deal in office due to his support of Georgia agriculture," Georgia Commissioner of Agriculture Gary Black said.
Morgan County dairy producer Everett Williams was among the livestock leaders participating in the ceremony.
"People are curious about what happens on farms," said Everett, who serves as president of the Georgia Milk Producers Inc. "I think it's great this barn will give so many people who don't realize what goes on on a farm a chance to see a live birth this close."
Georgia House Agriculture Committee Chairman Rep. Tom McCall was part of the Georgia delegation that visited the Minnesota State Fair birthing center. McCall said Minnesota fairgoers started lining up when the fair opened at 9 a.m. to get into the center.
"The whole purpose of this place [Georgia Agricenter] is to educate kids and teach them about agriculture," McCall said. "That's why it's important the Georgia legislature funded this barn to give kids and parents who have never had the chance to see a live farm birth to have this experience."
McCall compared the atmosphere in the Minnesota fair birthing center to that of a football game.
"When that baby calf hit the ground, it's like a touchdown has been scored at a Georgia/Georgia Tech game," McCall said. "Those people took up to four hours out of their day at the fair to watch a live birth. It's a big deal.
Georgia National Fair Board Vice Chairman Foster Rhodes said the opening of the baby barn is another example of the fair board staying true to its mission of serving the young people of Georgia.
"I can remember in the late 1980s when we had a ground breaking for this facility. I've been here over 30 years and I'm as excited about this groundbreaking as I was the first," Rhodes said. "If you can't be anywhere else the first Thursday in October when the fair opens, please come and be part of the grand opening of this facility."
---
Posted: 06/13/2018 in Uncategorized
---
Comments:
No comments have been posted.
HTML not allowed, max characters 255, * denotes required field.