Bringing the Fair to You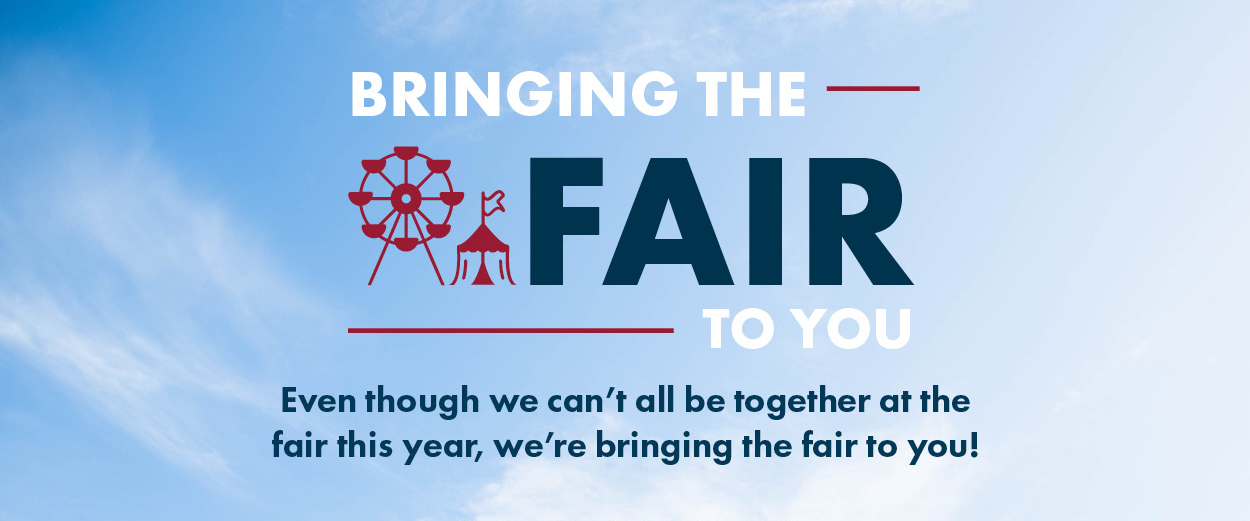 Celebrate the Georgia National Fair with us October 8-18!
The Georgia National Fair is one of the most eagerly anticipated events of the year at Georgia Farm Bureau. It's unfortunate that we won't be there to greet you all in person this year, but we invite you to help us celebrate this important annual tradition with us at home! From recipes to field trips to hash tags, we've designated a fun Fair theme for each day. Mark your calendars and join in on the fun!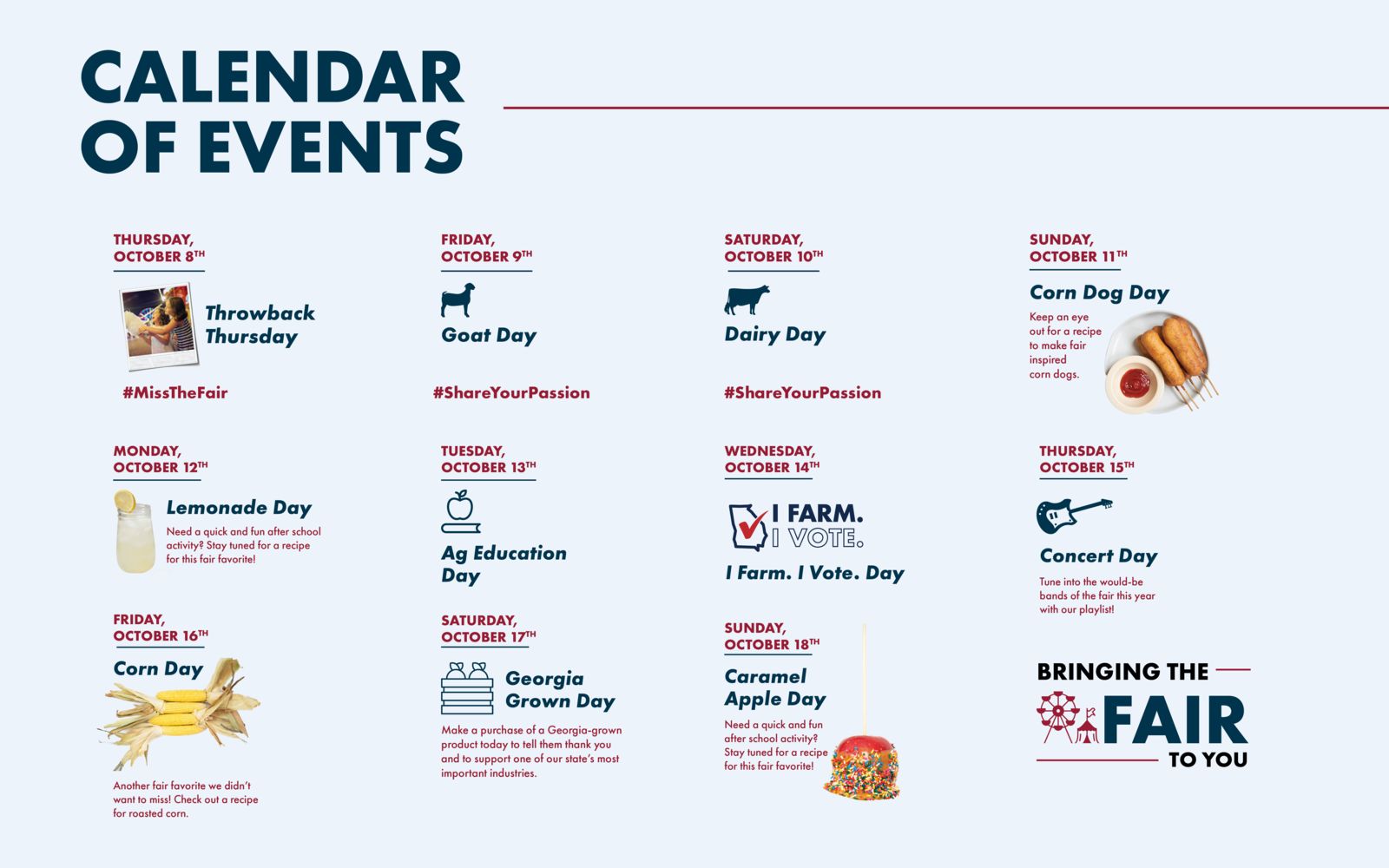 Bringing the Fair to You
Schedule
Thursday, October 8th: Throwback Thursday
Let's reminisce about Fairs past with some of our favorite Fair photos! Share your throwback fair photos and use the hashtag #MissTheFair
Friday, October 9th: Goat Day
Most of the Fair events have been canceled, but you can still watch a live stream of the livestock shows! Talented kids will be competing in goat shows today!
Saturday, October 10th: Dairy Day
Missing out on those sweet farm animal cuddles? Many of our Certified Farm Markets offer petting zoos where you can get up close and personal with a variety of different farm animals. Visit here to find one near you. Also, check out the GNF livestream today to see dairy cow shows!
Sunday, October 11th: Corn Dog Day
It's hard to beat a good corn dog. Make your own at home - it's easier than you think! Get the recipe here.
Monday, October 12th: Lemonade day
There's nothing like a refreshing lemonade after a full day of wandering the fairgrounds. Top off your Monday with a copycat recipe at home! This is a great activity to do with the kids. Get the recipe here.
Tuesday, October 13th: Ag Education Day
The Fair gives people of all walks of life a unique opportunity to learn more about agriculture. There are plenty of ways for you to continue discovering and learning at home! Check out our Ag in the Classroom site for more.
Wednesday, October 14th: I Farm. I Vote.
Elected officials govern all aspects of rural life and business, from taxes and environmental regulation to healthcare and education. Help us ensure the voices of farmers are heard by supporting the I Farm. I Vote. campaign.
Thursday, October 15th: Concert Day
When you think of the Georgia National Fair, you think of good music. Check out a Spotify playlist we made in honor of the great lineup the fair organizers had planned for 2020.
Friday, October 16th: Fair-Style Corn Day
Tonight, let's all fill our dinner plates with delicious, golden corn on the cobb. Get the recipe for Fair-inspired roasted corn here.
Saturday, October 17th: Georgia Grown Day
Georgia is blessed with a wide variety of agriculture products, from sweet berries to towering pine trees. We have local farmers to thank for that. Make a purchase of a Georgia-grown product today to tell them thank you and to support one of our state's most important industries.
Sunday, October 18th: Caramel Apple Day
Whether you love yours dipped in sprinkles, pecans or extra chocolate, these sticky treats are a must for the fall. End your week of fair celebrations with this fun-to-make treat - get recipe ideas here.
Flavors of the Fair
October 15 - 18 | November 5 - 8
If you live near Perry, be sure to participate in Flavors of the Fair at the Georgia National Fairgrounds! The event is open to the public from 11 AM to 8 PM and is free to enter (free parking, too!). We're looking forward to visiting the Fairgrounds and chowing down on our favorite dishes!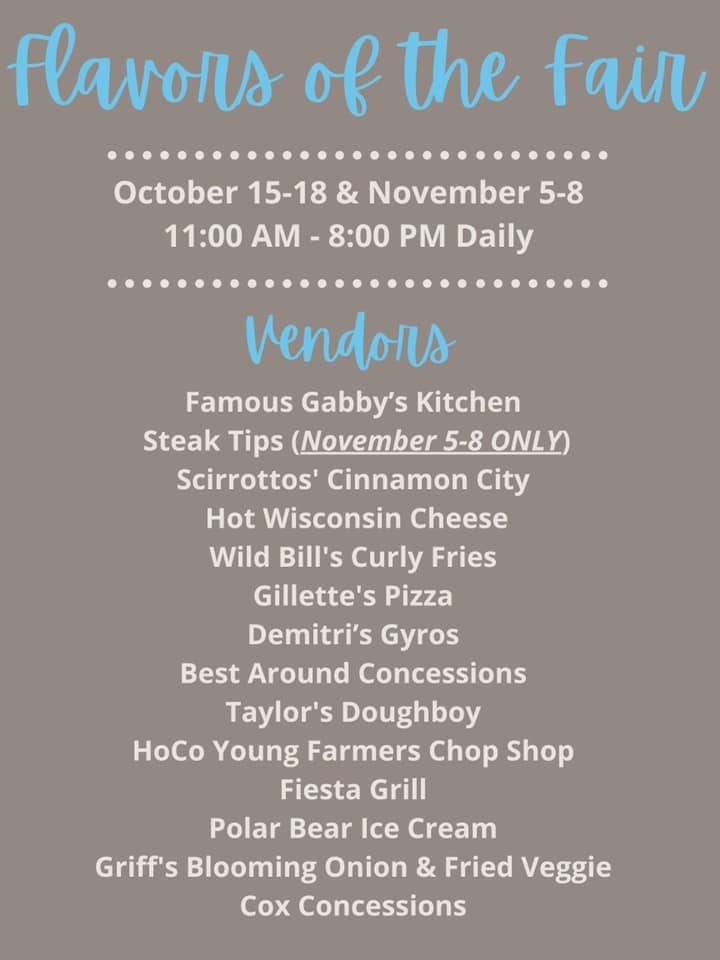 Instructions from the Georgia National Fair: This is a "walk-up" event, meaning you will park in the West Parking lot (closest to I-75), walk in and get all the Fair Food your heart can stand and then we ask that you return to the parking lot for a tailgate/picnic experience! We do ask that you help us in practicing social distancing as well as taking advantage of the hand sanitizing stations that will be located on-site. We invite you to come out with your family, friends, co-workers for lunch or simply to grab your favorite dessert on the way home! We can't wait to see you all at #flavorsofthefair October 15-18 and again November 5-8!
Get more updates on the Georgia National Fair Facebook Page