Ag News
Lee Nunn named Georgia Expo Farmer of the Year
Morgan County row crop farmer Lee Nunn is representing Georgia in the Sunbelt Agricultural Exposition/Swisher Sweets Southeastern Farmer of the Year competition. Gov. Brian Kemp recognized Nunn as the 2020 Georgia Farmer of the Year (FOY) during a private ceremony in the governor's office July 7. Nunn is a past president of the Morgan County Farm Bureau and
currently serves as its corporate secretary/treasurer.
Nunn grows wheat, soybeans, field peas, corn and cotton on more than 1,500 acres. He grew up visiting and helping at his grandfather's row crop and dairy farm in his native Morgan County until the farm was sold.
Although Nunn has been around agriculture most of his life, it wasn't a given that he would go into farming, and he doesn't farm any land his family owned. More than 12 years ago, Nunn planted his first wheat crop on 50 acres of his wife's family farm when it became available to rent. He realized he loved farming and began renting more land and diversified into more crops.
"I was very humbled and shocked [to be selected], but I appreciate the honor - it shows the hard work we farmers do," said Nunn, who also owns other agribusinesses including custom farming services, agricultural construction and a trucking division. "I'm on the farm all day every day, doing what I love. I've been thrilled to be able to do it every day."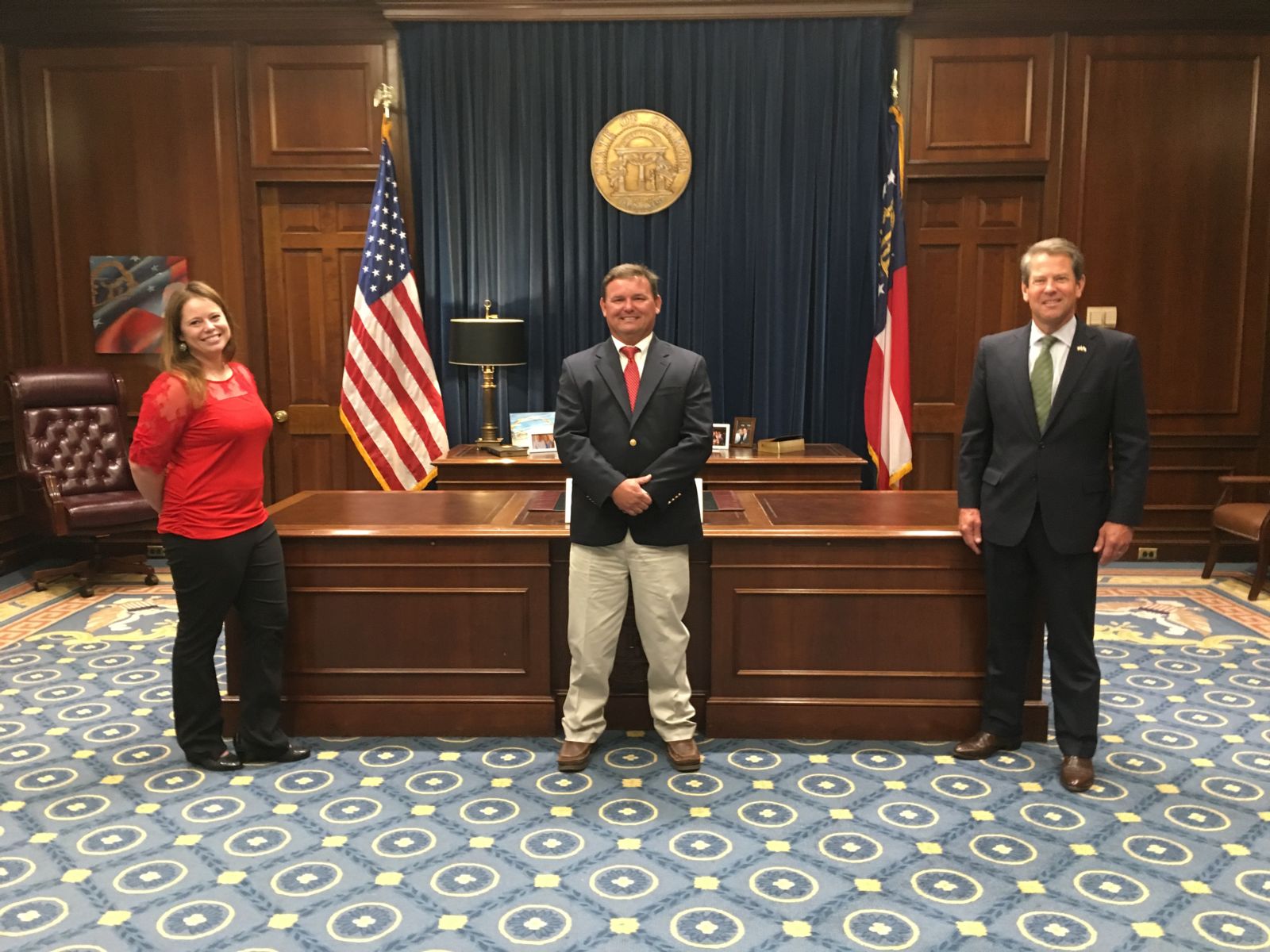 Georgia Sunbelt Farmer of the Year Lee Nunn, center, is congratulated by Georgia Gov. Brian Kemp, right, and Morgan County Extension Agent Lucy Ray.
Morgan County's Cooperative Extension Agent Lucy Ray nominated Nunn for the award, which is coordinated by the UGA Cooperative Extension. Ray, who has collaborated with Nunn on projects including cover crops and thrips control in cotton, says he is an avid believer in using the latest technologies available and is always open to field research.
"He definitely will try something new but makes sure the research and data backs up the decisions he makes," Ray said.
Nunn is collaborating on UGA Extension's soil moisture sensor project to optimize irrigation for about 5% of his land.
"Water is the limiting factor, so that's why we have to be so efficient," he said. "We have to micromanage every decision. It's a totally different atmosphere up here than South Georgia."
Nunn started working with precision agriculture about eight years ago and has progressively increased his use of the technology every year. All of his tractors, sprayers and combines are auto-steer.
"I'm a very big believer in precision guidance. It's the only way to go. We do yield mapping on the combine. We save on fertilizer by having that system pay for itself," Nunn said. "It's a good initial investment but pays in the long run. Even when I talk to some of my friends [who aren't involved in agriculture] they're amazed about what the technology can do."
Some of his notable production achievements include a 30% reduction in pesticide use, a 75% increase in conservation tillage with no-till or minimum till cropland and improved soil fertility using local poultry litter.
Nunn and his wife, Sally Tamplin Nunn, have two children, Claire and Mason. In addition to being an active Farm Bureau member, Nunn chairs the local USDA Farm Service Agency Board. He has also participated in the Conservation Stewardship Program offered by the USDA Natural Resource Conservation Service and serves on the county's Extension advisory board.
"He's got a reputation as someone who can get things accomplished and a really good heart," said Ray, who helped Nunn jumpstart a Morgan County Row Crop Association in 2015. He sought her help in creating a place for quarterly updates similar to other commodity associations.
As Georgia's FOY, Nunn will compete against nine other state winners for the Swisher Sweets/Sunbelt Expo Southeastern Farmer of the Year award.
Events related to the 2020 Swisher Sweets/Sunbelt Ag Expo Southeastern Farmer of the Year have been pushed back to 2021. Nunn and his counterparts from nine other states will host judges next year and a winner will be unveiled at the 2021 Expo set for Oct. 19-21. State winners will not be selected in 2021.
"We have considered virtual options for the judging tour and the awards ceremony, but the Farmer of the Year program is not a virtual event," said Sunbelt Executive Director Chip Blalock. "To have a Farmer of the Year class not be able to experience the in-person judging tour, the trip to South Georgia and the Sunbelt Ag Expo is not an option in our book."
To learn more about the award, visit sunbeltexpo.com/foty.