Storm Relief

Widespread Destruction
Hurricane Michael had a devastating impact on many farmers in South and Central Georgia. From row crops, vegetables and tree nuts to farm equipment, poultry houses, and buying points, Hurricane Michael wreaked havoc on the agriculture industry. Each year, farmers invest untold amounts of time and effort into producing quality commodities for consumers. Within 24 hours, some Georgia farmers lost entire crops. See the full Georgia Department of Agriculture press release here.
Damage from Hurricane Michael wasn't limited to just agriculture. All along the storm's path, homes and automobiles were damaged or destroyed and people were left homeless. The effects will be felt for many years.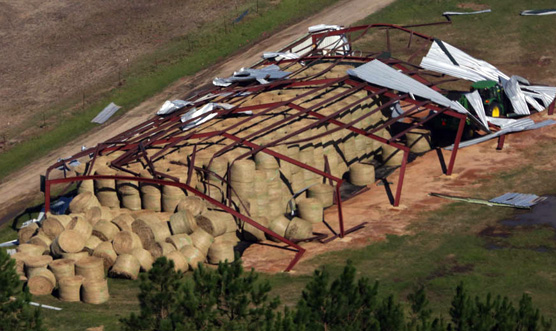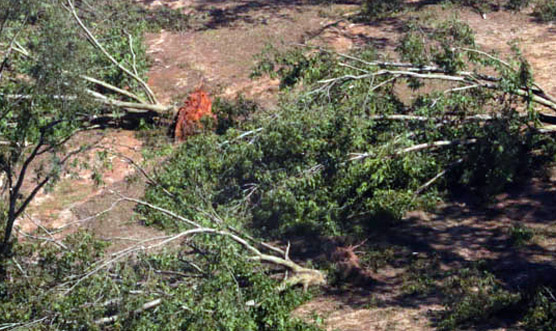 You Can Help
The Georgia Farm Bureau Foundation for Agriculture is accepting tax-deductible donations to aid in the relief effort following the devastation from Hurricane Michael. This fund will collect and distribute monetary contributions only. One hundred percent of the donations to this fund will be dispersed to Georgians, farmers and ranchers across the state that have been affected by the devastation.
Click here to make your tax-deductible credit card donation
Please contact stormrelief@gfb.org with monetary donation questions. If you would like to help but prefer to pay by check, it should be made out and sent to:
Georgia Farm Bureau Foundation for Agriculture
Hurricane Michael Relief Fund
P.O. Box 7068
Macon, GA 31209
Attn: David Jolley
Donations of Cash or Checks
Checks should be made payable to Georgia Farm Bureau Foundation for Agriculture, and all monetary amounts paid to the Foundation are tax deductible as a charitable contribution.
A County Farm Bureau may contribute to the Foundation as well. The amount is deductible as a charitable donation on the CFB's Form 990-T.
The donor is responsible for obtaining from the Foundation an acknowledgement if the amount contributed is $250 or more before the donor can deduct the amount as a charitable donation on the applicable federal income tax return. The donor will need to provide a return address at the time the donation is made.
Georgia Farm Bureau Cares When it Counts
Now the storm has passed, and Georgia Farm Bureau wants you to know that you are not alone. We're grateful that you are safe, and although things look bleak in the face of such devastation, the Georgia Farm Bureau team is here to help you. Together we will overcome this challenge and put you on the road to recovery.
If you have a claim please report it as soon as possible using one of these options:
Call our Claims Center at 855-432-2567
On the GFB Insurance website: www.gfbinsurance.com
Using our GFB mobile app
Contact your Georgia Farm Bureau agent
Because of this weather catastrophe, please note that it could take up to 96 hours from the time you report your claim to the time a claims adjuster is assigned to you. Once this assignment is made, please expect your claim to be concluded in 7-10 days on average (this average does not include any homes that are unlivable or vehicles that are not drivable). Newly reported claims are evaluated and handled according to severity.
We thank you in advance for your patience and appreciate you choosing to do business with Georgia Farm Bureau. We know you have choices for insurance and you chose us. We do not take that lightly, and it is times like this that allow us to show why you put confidence in our company.