ID Theft
Identity Theft Consultation and Restoration Service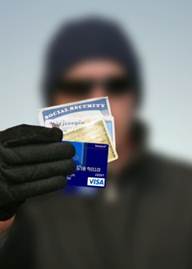 Identity theft is the fastest growing crime in America.
How's that for a startling statistic?
As part of the many benefits included with your Georgia Farm Bureau membership, you have access to Identity Theft Consultation and Restoration Services. All eligible* family members in the household are covered and the service is included in your annual membership dues.
What Is Identity Theft?
Identity theft occurs when a thief uses an individual's personal identification information, such as a social security number, an address, and/or credit and debit card numbers without permission with the intent of committing fraud or other crimes.
How does ID Theft Consultation & Restoration Service work?
If a GFB member suspects that their identity has been stolen, they call the toll-free number listed below and speak with a trained Member Service Specialist.
After gathering some basic information, a thorough assessment of the member's unique situation will be performed to determine the nature and extent of the identity theft event.
Once a determination has been made that a member's identity has been stolen, the member is assigned a Personal Recovery Advocate and a case file is opened.
Utilizing a Limited Power of Attorney, the Personal Recovery Advocate will work on the member's behalf to restore their identity to pre-theft status.
The Personal Recovery Advocate will remain assigned for as long as it takes to restore the member's identity to pre-theft status.
Dark Web Scan
With the explosion in data breaches, billions of usernames, passwords, personal information and confidential documents are for sale on the surface, deep and dark web. But as a member of Georgia Farm Bureau, you can fight back! With ID Experts' CyberScan, you now have the ability to scan billions of data points on the surface, dark and deep web to see if your information has been exposed.
It's simple. At no cost and in just 3 easy steps and you'll see if your information is at risk.
Register your email address and create a password
After creating your password, check your email you registered with to verify. (look in junk/spam if you don't see it in your inbox)
After verifying your email address, you will be taken to the MyIDCaredashboard and can enter additional personal information you want monitored by "CyberScan"
You'll get your results in a matter of seconds. Add more information to be scanned to your personal dashboard and MyIDCarewill continue to scan and send you alerts as the latest threats emerge.
What should I do if I believe I am a victim of ID Theft?
Call (800) 633-5432 and select Option #1 or click here to create/log in to your account to report a recent ID theft.

Program is not identity theft protection, an insurance product or credit monitoring.
*GFB member, spouse and children under the age of 19, or 24 if a full-time student.