Medicare Supplement Plans
Medicare Supplements, Made Easy
Medicare was not designed to cover all of your doctor and hospital bills, which is why Georgia Farm Bureau is proud to offer members affordable options to supplement healthcare costs. Georgia Farm Bureau has partnered with Family Life Insurance Company to help members fill the gaps that may be left by their Medicare coverage
---
Fill out the form below, give us a call at 800-955-3728 or contact your local agent to learn more about GFB's Medicare Supplement plans and to get a quote.
---
How Does Georgia Farm Bureau's Medicare Supplement Plan Work?
You can see the doctor you choose.
You're not restricted to use a network of health care providers. If they accept Medicare patients, they accept Medicare Supplement insurance. So you can go directly to the physician and specialist you choose – no referrals or pre-approvals required. Plus, if you move, your coverage goes with you.

Your coverage starts now.
There's no waiting period for preexisting conditions, and benefits are paid from the time your policy is in force.

Pay less out of your pocket.
Your Medicare Supplement and Medicare Parts A and B work together to minimize your share of health care costs. With this coverage, even unexpected medical events aren't likely to impact your financial health.

Your policy is renewable – guaranteed
Your Medicare Supplement insurance policy renews as long as you pay your premiums on time and make no material misrepresentations.
---
More Frequently Asked Questions
Original Medicare wasn't designed to cover all of your doctor and hospital bills. That's why Medicare Supplement plans exist.

Original Medicare covers:
Medicare Part A
Hospital Insurance coverage includes hospital inpatient care and recovery care in skilled nursing facilities, hospice and home health care services.
Medicare Part B
Medical Insurance helps cover some medically necessary services from doctors and other health care providers plus preventative services.

Original Medicare does not cover:
Medicare Part A hospital benefit-period deductible and coinsurance
Medicare Part B medical annual deductible, generally 20% coinsurance and charges exceeding Medicare-eligible expenses
Skilled nursing facility coinsurance
These bills can be paid for by yourself or through the Medicare Supplement policy you purchase
Farm Bureau offers Medicare Supplement plans A, F, G, and N – all with varying amounts of coverage. Each plan is designed to fit various lifestyles, budgets and needs. Premiums vary based on the amount of coverage provided by a specific plan. A household premium discount may be available for eligible applicants.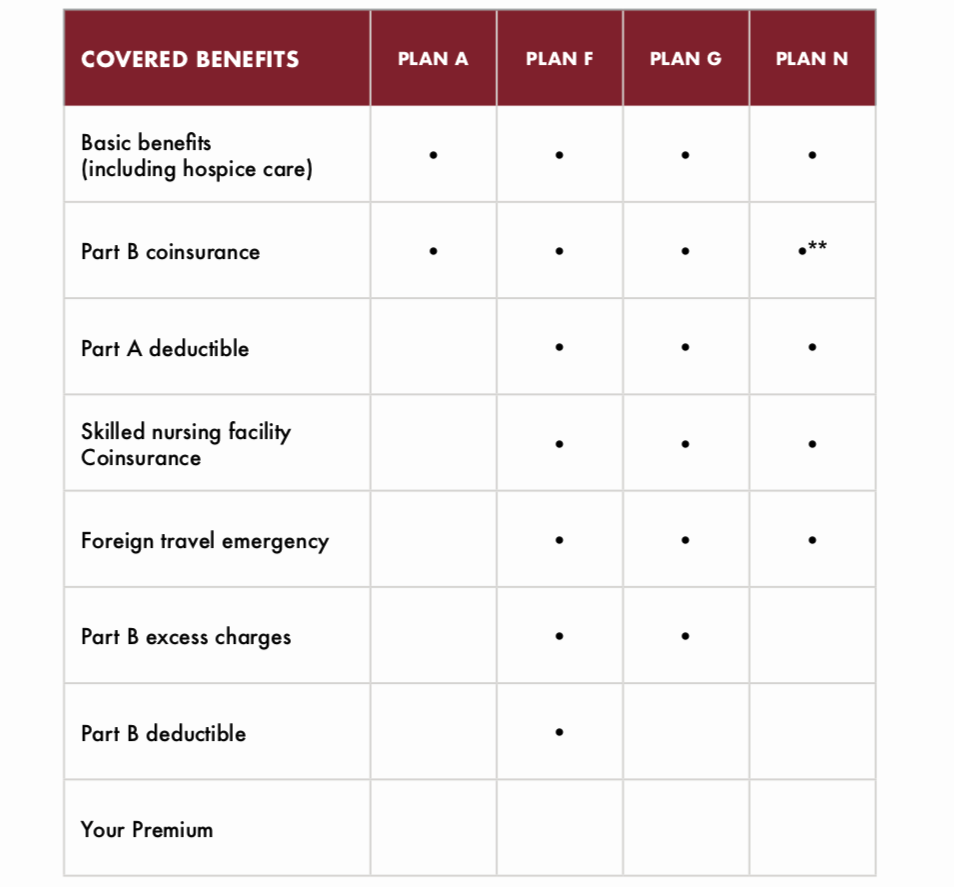 ** Plan N requires up to a $20 copayment for some office visits and up to a $50 copayment for emergency room visits. Copayments do not count toward the annual Part B deductible.
Medicare Part A – Hospital Insurance
Deductible: All plans, except plan A, pay the Part A deductible for each benefit period.
Coinsurance: All plans pay coinsurance from the 61st day through the 90th day and the 91st day through the 150th day.
Extended Hospital Coverage: You also have 60 Medicare Lifetime Reserve days, which these plans pay the Part A eligible expenses for hospitalization for a maximum of an additional 365 days.
Benefit for Blood: All plans will pay for the first three pints of blood needed.

Medicare Part B – Medical Insurance
Deductible: Only Plan F pays the calendar-year deductible
Coinsurance: After the Part B deductible, all plans except plan N pay 20% of the eligible expenses.
Excess Benefits: Only plans F and G pay 100% of the difference for any excess charges, up to the limitation of charges established by Medicare.
Benefit for Blood: All plans pay for the first three pints of blood needed.
Additional Benefits: Emergency Care Outside of the U.S.: After the annual deductible, plans F, G and N pay 80% of eligible expenses up to the policy maximum for injuries and illnesses incurred during the first 6 0days of a trip.

Skilled Nursing Facility Care
Coinsurance: With the exception of Plan A, these plans pay the coinsurance for the 21st through the 100th days which you receive skilled nursing care. This must be a Medicare-certified facility and be within 30 days of being hospitalized.
Hospice Care: After meeting the Medicare requirements, all plans pay for co-payment or coinsurance for outpatient drugs and inpatient respite care.
* For complete information on benefits, exceptions and limitations, please read your Outline of Coverage and your policy.
Benefit Period
Begins the first full day you're hospitalized and ends when you haven't been in a hospital or skilled nursing facility for 60 days in a row.

Coinsurance
A percentage of Medicare-approved expenses not paid by Medicare.

Copayment
A fixed dollar amount you may be required to pay as your share of the cost for a medical service or supply.

Deductible
The dollar amount you must pay before Medicare or Medicare supplement insurance pays.

Eligible Expenses
Charges covered by Medicare Parts A and B to the extent Medicare recognizes them as reasonable and medically necessary.

Excess Charge
The difference between what a health care provider is permitted to charge and the Medicare-approved amount.

Premium
The periodic payment to Medicare, an insurance company, or a health care plan for coverage.
The Georgia Farm Bureau Medicare Supplement Plans are underwritten by Family Life Insurance Company.
For additional questions on Farm Bureau's Medicare Supplement, contact us:
800-633-5432
gfbinsurance.com