Farm Passport
We are sharing a reason to discover Georgia, support local farmers and experience fresh food. The Certified Farm Market program is all about discovering where your food comes from and supporting those who make it possible.
Grab your passport and let it guide you across the state to see the diversity of agriculture Georgia offers. Passports can be found at participating farms. You can also download and print a copy here.
How it works: As you visit participating farms, ask the farmer to stamp your passport. The more stamps you receive, the more prizes you will earn! Keep in mind farmers are at the mercy of the weather. Be sure to call or check the farm website/social media before visiting to make sure the farm is open. Passports can be picked up at county Farm Bureau offices or at a Certified Farm Market.
How to Earn Prizes:
All passports returned with at least one stamp will be entered in drawing to win a basket of favorite products from CFMs. ($100 value)
5 stamps -Limited Edition T-shirt
10 stamps – Awesome Ag Swag + T-shirt
15 stamps – Choice of product from Certified Farm Market (honey, pecan, or fruit jam) + Prizes listed above
20 stamps -Full access pass farm tour with Farm to Table meal in spring of 2021 + All of the above
The person with the most stamps will receive a RTIC cooler and an interview on Farm Monitor (Agribusiness News and Features TV Show) about their experience.
Rules:
Passports must be stamped between January 1, 2020 – December 31,2020.
One passport allowed per person. One stamp allowed per person per farm. Must be present to get your passport stamped.
Be kind & make a purchase. Remember the farm is their livelihood.
Be sure to fill out your info on the left to receive prizes.
Deadline to submit Passport is January 8, 2021.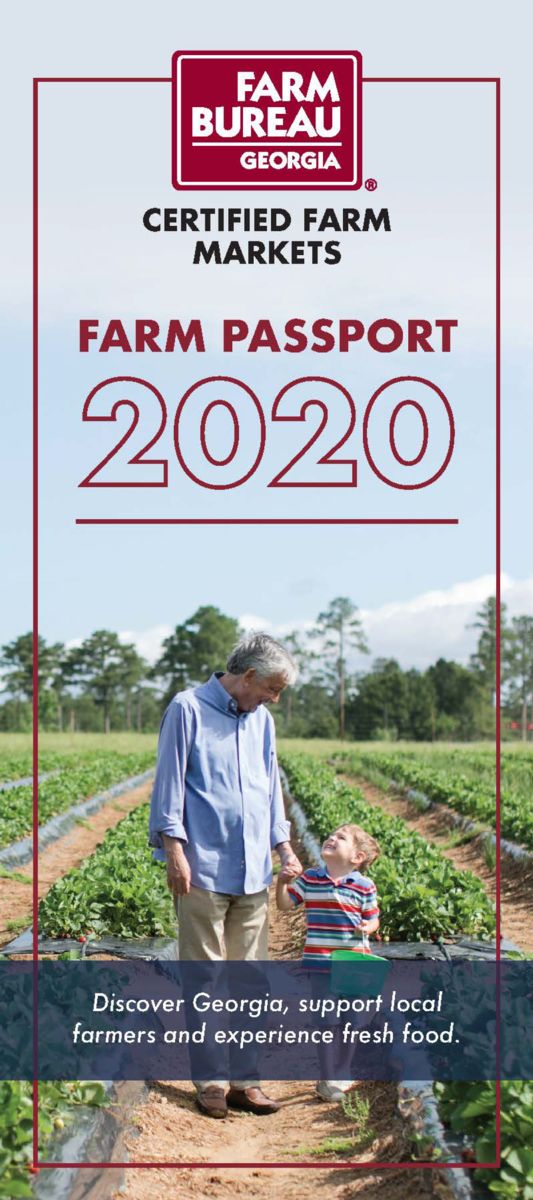 Things to Keep in Mind:
As you visit, share your journey with #farmpassport #gafarmbureau
The description of each farm is based off the primary things they grow. They have more to offer than what is listed.
Email cfm@gfb.org for questions
Pass the quiz in the back of the passport to receive the equivalent of one stamp.
How to Claim Your Prizes: Mail in your passport by Jan. 8th, and we will return it to you with your prizes!
GFB Certified Farm Markets
P.O. Box 7068
Macon, GA 31209-7068
---
A letter from the coordinator:
With a new year comes new opportunities to learn, grow, and spend time with those you love. This farm passport provides you the opportunity to do just that. Let this be your guide to some of Georgia's most beautiful views, access to fresh, local goods, and a ticket to interacting with those who grow your food.
Please note that farms are like people. There are no two exactly alike. As you travel around the state, you will see farms offering their own, unique combination of u-picks, agritourism, farm tours and educational classes. The one thing these farms do have in common is that they invite you to see agriculture first-hand and buy directly from the farmer.
Grab a friend and enjoy exploring Georgia agriculture. As you travel, share your farm experiences with us using #farmpassport.
Happy travels! Kelly Thompson GFB Certified Farm Market Coordinator
Kelly Thompson
Certified Farm Market Coordinator