Young Farmers and Ranchers
The purpose of the Georgia Farm Bureau Young Farmer and Rancher program is to bring together young adults (18-35) that are involved or interested in the agriculture industry while promoting leadership growth, educational outreach, diversity, and industry advocacy in our communities, state and nation.
In addition, the program will contribute to the overall effectiveness of the Georgia Farm Bureau by providing leadership, educational, and social opportunities, thereby preparing and enabling young adults to become more active members and to assume additional roles of leadership and responsibility within county, state or national Farm Bureau organizations.
Every year, the YF&R Committee sponsors three competitive events. Young farmers can compete in the Achievement Award competition, the Excellence in Agriculture competition, and the YF&R Discussion Meet. State winners in these contests compete against their peers from other states in the American Farm Bureau national competitions. The Young Farmer and Rancher Leadership Conference is held every Summer, and the 2017 conference took place at Jekyll Island, Georgia, July 19 - 22.
Learn more about our competitive events
YF&R Excellence in Ag Award
Each year Georgia Farm Bureau plans a trip to Washington D.C. for Young Farmer and Rancher members. It's an opportunity to meet with lawmakers and to share concerns and ideas pertaining to agriculture. Here is a video clip of the most recent trip.
The YF&R program also sponsors the annual Picture Agriculture In Georgia Photo Contest, looking for the photos that capture the spirit of agriculture, and Farm Bureau, in our great state. The 2017 contest winners were announced during the YF&R Leadership Conference, and those great photos were featured in the 2018 GFB Young Farmer and Rancher Calendar. For information on this year's photo contest, click here.
Then YF&R program is proud to have coordinated the Georgia Farm Bureau Harvest For All Campaign, which donated $20,000 to the Georgia Food Bank Association in 2017. Harvest for All is one of the highlights of annual young farmer activities and has traditionally been one of many ways young farmers seek to give back to those in need. For more information on this great campaign, please visit our Harvest For All page.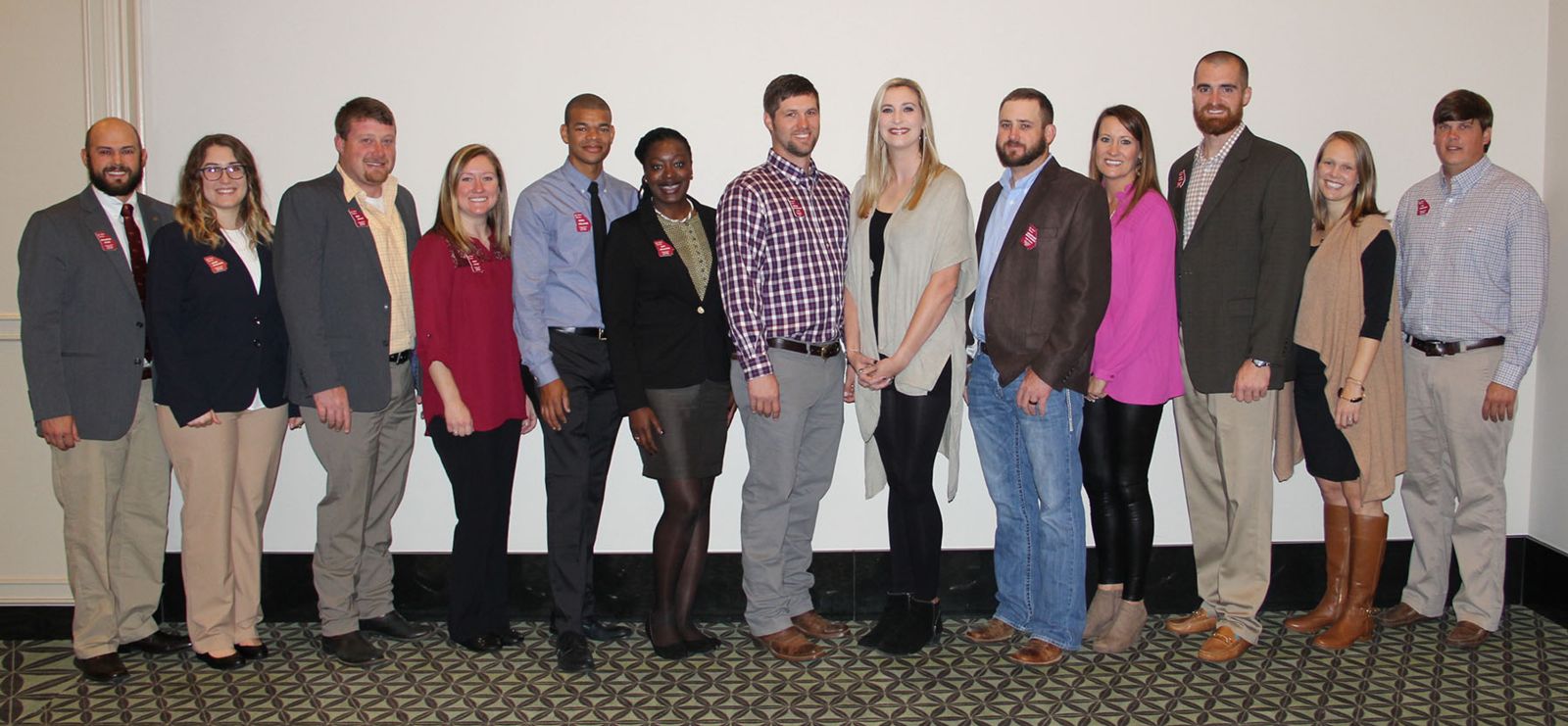 The 2018 Georgia Farm Bureau Young Farmer Committee. From left: Brandon Wade and Jamie Hendren, Bacon County, 10th District; Ben and Vicki Cagle, Cherokee County, 1st District; Guill and Chy Kellogg, Cobb County, 3rd District; Dustin and Lauren Covington, Sumter County, 8th District; Jonathan and Bridget Hitchcock, Washington County, 6th District; Jesse and Brighton Patrick, Putnam County, 4th District; John Douglas Newton, Bulloch County, 7th District. Not pictured: Caroline and Kyle Lewallen, Hall County, 2nd District; Joseph Keith, Troup County, 5th District; Preston and Kendall Jimmerson, Colquitt County, 9th District.
To learn more about the Georgia Farm Bureau YF&R Program and for information on how to get involved, click here for our Young Farmer Brochure.
For more information on any awards or activities of the Young Farmer and Rancher Program, please contact:
Georgia Farm Bureau
Field Service
P.O. Box 7068
Macon, GA 31209
(478) 474.0679 ext 5224
yf@gfb.org