Legislative Session Report Week 1


LEGISLATIVE REPORT WEEK 1
January 14, 2022
---
IN THIS ISSUE:
General Assembly Gavels In
Right to Farm Remains Georgia Farm Bureau's #1 Priority Issue
Budget Discussions Begin
American Farm Bureau Convention Convenes in Atlanta
Register Today for GFB Day at the Capitol!
Bills That Remain Eligible in 2022
Not a Member of Georgia Farm Bureau? Join Today!
---
GENERAL ASSEMBLY GAVELS IN
On January 10th, 2022, the Georgia General Assembly gaveled in for the 2022 legislative session. This is the second year of the two-year biennium, meaning bills introduced during the 2021 session are still eligible for passage during the 40 legislative days of the 2022 session. Although the Georgia Bulldog victory over the Alabama Crimson Tide on Monday night drew a great deal of attention from all across the state, including at the Capitol, there was still work being done under the Gold Dome this week. Legislators met briefly on Monday and reconvened on Wednesday, January 12th, meeting through Friday to wrap up the 4th legislative day.
On Thursday, Governor Kemp delivered the State of the State address where he spoke of the accomplishments from the past year as well as some of his priorities for the upcoming session. Among the most prevalent themes of his address were the continued investments in Georgia's education and healthcare systems, the bolstering of our workforce training pipeline, and backing our state's law enforcement officers. He touted the state's response to the COVID-19 pandemic, announced additional pay raises for teachers and other state employees, and spoke on the efforts to continue curbing violent gang crime. Overall, the Governor highlighted his goal of building a safer, stronger Georgia.
Appropriations hearings will begin next week as the General Assembly seeks to amend the FY22 budget and determine the budget for FY23. Georgia Farm Bureau (GFB) Public Policy staff will be at the Capitol each day to monitor the issues that impact our members and advocate for Georgia agriculture.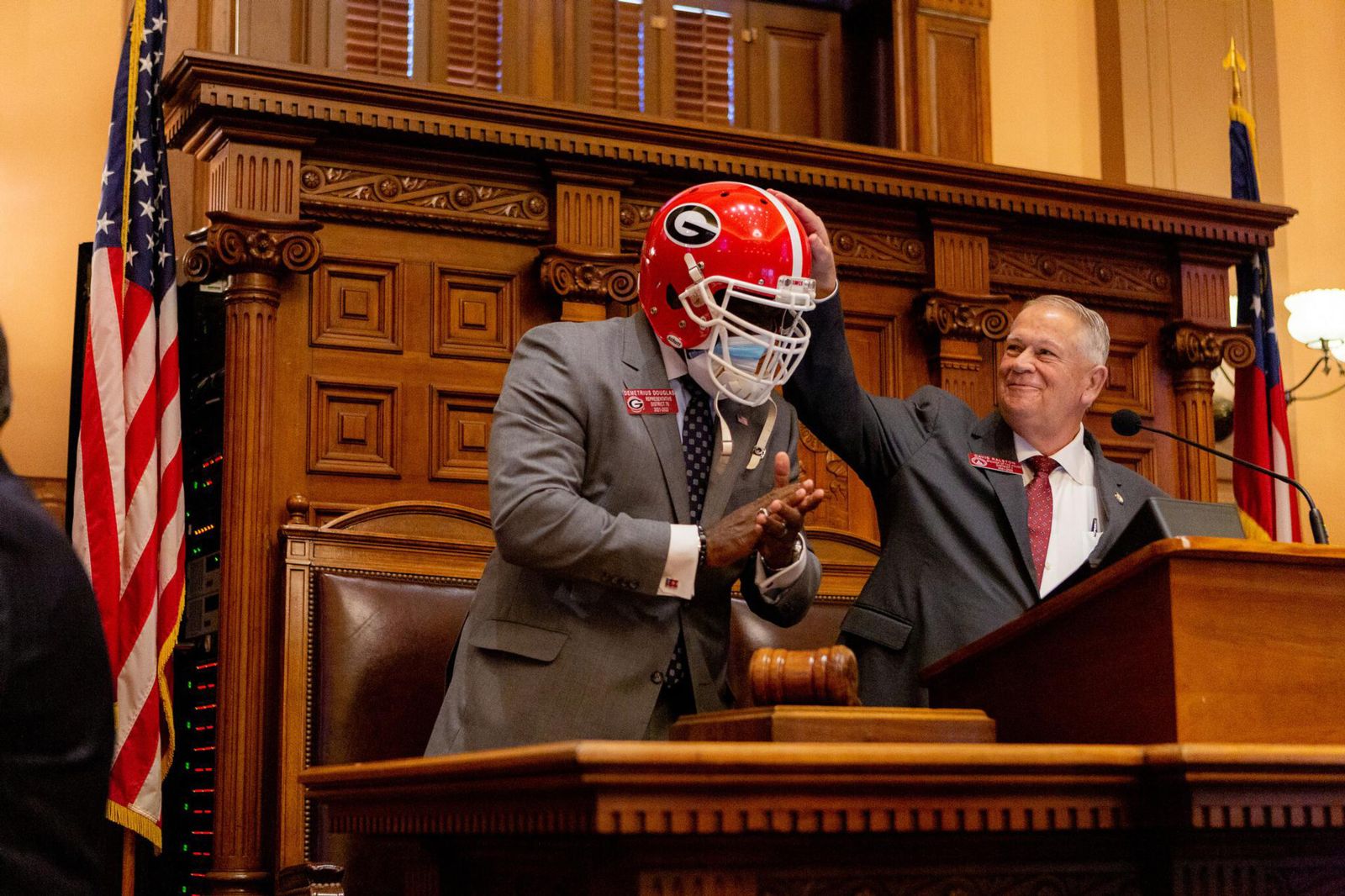 House Speaker David Ralston (right) congratulates UGA football alum Rep. Demetrius Douglas on Wednesday. (Photo Credit: Georgia House Photo)
---
RIGHT TO FARM REMAINS GEORGIA FARM BUREAU'S #1 LEGISLATIVE PRIORITY
During Georgia Farm Bureau's annual convention in December, the Board of Directors set this year's priority issues that will be the focus of our legislative efforts during this year's session. These priorities focus on protecting farmers' private property rights; access to and stewardship of natural resources; crucial tax programs such as the Conservation Use Value Assessment (CUVA), Georgia Agricultural Tax Exemption (GATE), ad valorem exemptions, and the federal stepped-up basis provision; and a healthy regulatory framework that doesn't unduly restrict agricultural practices.
The GFB Board of Directors took further action, elevating the passage of meaningful Right to Farm legislation to a Spotlight Issue for the 2022 legislative session. It will be the number one priority for our Public Policy staff at the Capitol this session.
GFB has worked closely over the summer with other allied agricultural organizations and with legislators that are committed to making sure our state's farmers have protection from frivolous nuisance lawsuits. Last month, after hearing testimony from GFB and other agricultural organizations, the House Rural Development Council adopted a recommendation to "Pass right-to-farm legislation that will conserve, protect, and encourage the development and improvement of agricultural and forest land and facilities…" We appreciate the Council's support of this effort and look forward to working with them this session to advance agriculture and our rural communities.
---
BUDGET DISCUSSIONS BEGIN
On Thursday, the Governor released his Amended FY22 and FY23 budget proposals. Due to a strong economic recovery, state revenues have been higher than expected during the months following the height of the COVID-19 pandemic. Funding for numerous economic development projects, increases in pay for state employees, and even a tax refund to all Georgians are included in the Governor's proposals. Additionally, there is a great deal of funding included to build up rural Georgia and support agriculture, the state's largest economic driver. Please see below for a highlight of what is included in the proposal regarding agriculture. Beginning next week, the appropriations committees will begin analyzing the budget to put their own fingerprint on the state's spending plan.
Amended FY 2022 Budget Changes
Agricultural Experiment Station
$1,150,000 to provide funds for infrastructure and seed grants to support Integrated Precision Agriculture at the University of Georgia.
$3,200,000 to provide funds for furniture, fixtures and equipment for the Poultry Science Complex - Phase I at the University of Georgia.
$1,500,000 to provide funds for furniture, fixtures and equipment for the Agriculture Facilities enhancement project at Abraham Baldwin Agricultural College.
FY 2023 Budget Changes
Department of Agriculture
$1,884,774 for the Georgia Agricultural Trust Fund generated through agricultural tax exemption fees to provide funding for the maintenance and operations of state farmers' markets and marketing and promotion of Georgia agricultural products.
$800,000 for the Georgia Grown Farm to Food Bank Program to combat agricultural waste and address fresh produce shortages in regional food banks.
Poultry Veterinary Diagnostic Labs
$180,305 to provide funds for increased maintenance costs.
Agricultural Experiment Station
$2,180,000 to provide 11 new faculty positions for agricultural initiatives at the College of Agricultural and Environmental Sciences at the University of Georgia.
Veterinary Medicine Experiment Station
$220,000 to provide funds to support research on cattle and poultry diseases and upgrade laboratories to improve biosafety standards.
---
AMERICAN FARM BUREAU FEDERATION CONVENES IN ATLANTA
After taking a year off due to the COVID-19 pandemic, the American Farm Bureau Federation (AFBF) reconvened this week in Atlanta for their annual convention and business session. Throughout the week, members from across the country had the opportunity to tour Georgia farms, attend policy issues workshops, visit the industry trade show, and participate in educational contests, among other things.
Special congratulations to our GFB Young Farmers & Ranchers members who represented our state well in their respective contests. Cleve Jackson of Floyd County finished in the top 16 of the Discussion Meet and Jessica Lance of Morgan County finished 4th in the Excellence in Agriculture competition.
Former USDA Secretary and Georgia Governor Sonny Perdue was awarded AFBF's highest honor, the Distinguished Service Award, on Sunday. Perdue was recognized for the work he did on behalf of farmers across the country while leading the U.S. Department of Agriculture from January 2017-January 2021. "Governor Perdue is a true leader for Georgia and U.S. agriculture," said Tom McCall, president of Georgia Farm Bureau. "His dedication and investment to our industry will have a long-lasting impact on our nation and the world. Sonny is deserving of this honor."
Wrapping up the week, Tuesday's business session ratified the 2022 AFBF Policy Book, which dictates the legislative direction Farm Bureau takes as an organization on the federal level. The grassroots policy process, always an important one, is especially significant this year as 2023 farm bill discussions ramp up. Additionally, former Georgia Farm Bureau President Zippy Duvall was re-elected to his fourth term as President of the American Farm Bureau Federation.
The 2023 American Farm Bureau Convention will be held January 6-11, 2023 in San Juan, Puerto Rico.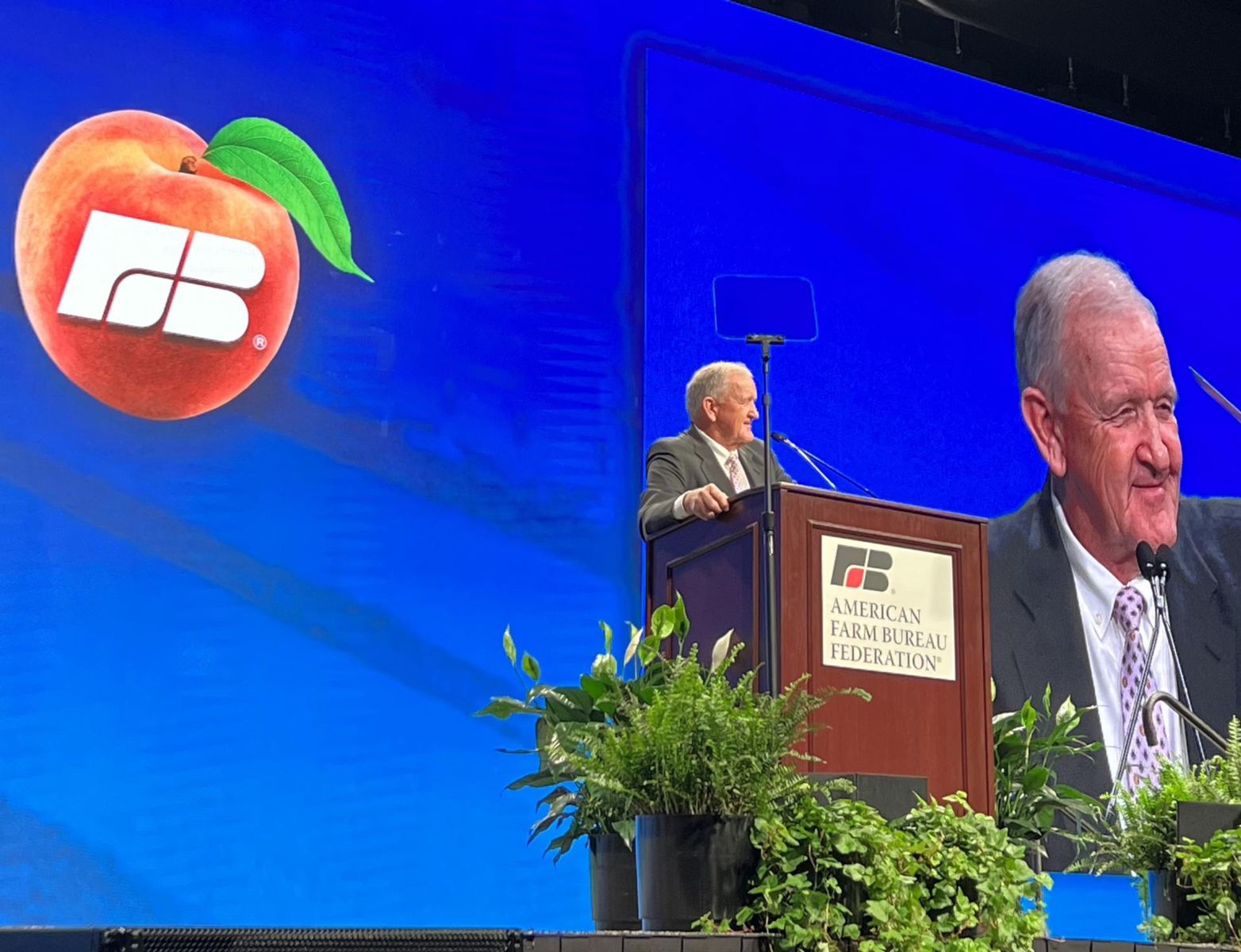 Georgia Farm Bureau President Tom McCall welcomed attendees to the 103rd American Farm Bureau Convention in Atlanta.
---
REGISTER TODAY FOR GFB DAY AT THE CAPITOL!
Georgia Farm Bureau Day at the Capitol is scheduled for Tuesday, February 8, 2022. Orientation begins at 9:30 am in the Blue Room at the Georgia Freight Depot. The Depot is located on Martin Luther King, Jr. Drive, one block northwest of the Capitol, at Underground Atlanta. Please complete the GFB registration by Friday, January 21st to let us know you are attending.
After orientation, we encourage you to visit with your legislators at the Capitol and return with them to the complimentary luncheon at the Depot beginning at noon. Luncheon invitations will be sent to all legislators, but a personal invitation from you would be especially helpful and effective.
Complimentary security parking is located at the Sheraton Atlanta Hotel parking deck, located at 165 Courtland Street NE, and the shuttle bus service will run from 8:00 am to 3:00 pm.
A limited number of rooms are available for the night of February 7th at the Sheraton Atlanta Hotel (165 Courtland Street NE). Georgia Farm Bureau will not pay for overnight accommodations; however, we have negotiated a nightly room rate of $142 plus applicable taxes and fees. Please click here to make your room reservation or call (404) 659-6500 and request the GFB room rate. Reservations are on a first-come, first-served basis, and the deadline to reserve a room is January 20th. After the deadline date, rooms are accepted based on space and rate availability.
We look forward to seeing you in Atlanta on February 8th.
---
BILLS THAT REMAIN ELIGIBLE IN 2022
To find more on a specific bill, visit the Georgia General Assembly website and use the "Search Legislation" tool at the top right.
HB 44:
Reps. Cantrell, Greene, Barr, Werkheiser, Gambill, and Williams
This bill would require Georgia to observe Daylight Savings Time year-round. This will only become effective if Congress authorizes states to observe daylight savings time year-round.
House Passed/Adopted on 3/5/2021. Assigned to Senate Rules Committee on 1/10/2022.
HB 139:
Reps. Mainor, Dukes, McClain, Mallow, and Thomas
This bill would prohibit trains from blocking any traffic crossing for longer than 15 minutes (with exceptions for safety reasons), and also require signage at crossings providing a telephone number to report such instances.
Assigned to House Transportation Committee on 1/28/2021.
HB 482:
Reps. Lim and Holcomb
This bill would provide a preferential tax rate program that seeks to promote urban agriculture as well as provide for urban agricultural incentive zones that would be located in areas with a 15% or greater poverty rate. The program includes restrictions for properties that enter a contract such as being at least .10 acres but not more than 5 acres and for an initial term of at least 5 years. This bill is the enabling legislation for HR 164 that would put this change on the ballot in 2022 as a constitutional amendment.
Assigned to House Ways and Means Committee on 2/17/2021.
HB 496:
Reps. Burchett, Burns, Rhodes, Ridley, and Williams
This bill seeks to create a $1,000 Annual Forest Product Permit, issuable by the Department of Transportation, allowing vehicles hauling timber up to a gross weight of 95,000, up to 10 feet wide, and no more than 100 feet long.
Assigned to House Transportation Committee on 2/18/2021.
HB 500:
Reps. Burchett, Blackmon, Dickey, Rhodes, and Watson
The Georgia Agribusiness and Rural Jobs Act, established in 2017, provides a system of non-traditional loans for rural businesses to encourage economic growth and jobs. This legislation would provide the second round of funding, in the amount of $100 million, to replenish the program.
Assigned to House Ways and Means Committee on 2/18/2021.
HB 504:
Reps. Williamson, Reeves, Burns, Knight, Blackmon, and Lott
Similar to HB 500, this legislation provides a second round of funding for the Georgia Agribusiness and Rural Jobs Act in the amount of $100 million. However, the bill goes on to create a new NAICS code and tax program for medical equipment and supplies manufacturers. Additionally, this bill goes on to address other tax credit programs dealing with high-impact aerospace defense projects, Georgia ports, and railroads.
Assigned to House Ways and Means Committee on 2/18/2021.
HB 608:
Reps. Wiedower, Burns, Smyre, Parsons, and Kelley
In an effort to enhance the expansion of broadband to unserved areas, this legislation authorizes the use of OneGeorgia funds to award contracts to qualified providers under the Georgia Broadband Deployment Initiative.
Assigned to House Governmental Affairs Committee on 2/24/2021.
HR 164:
Reps. Lim and Holcomb
HR 164 would allow for a constitutional amendment to be on the ballot in 2022 should HB 482 pass. See above for additional information on HB 482.
Assigned to House Ways and Means Committee on 2/17/2021.
SB 30:
Sens. Beach and Harbison
Senate Bill 30 would provide for pari-mutuel horse racing in the state at a limited number of licensed equestrian centers, create the Georgia Horse Racing Commission, and provide for the comprehensive regulation of pari-mutuel horse racing and related activities.
Referred to Senate Regulated Industries and Utilities Committee on 1/28/2021.
SB 65:
Sens. Gooch, Miller, Cowsert, Tillery, Harper, and Hatchett
In a continued effort to expand broadband access to rural and un-served communities, this legislation allows the Public Service Commission and Department of Community Affairs to utilize a portion of the Universal Access Fund for such services.
Assigned to Senate Regulated Industries and Utilities Committee on 2/2/2021.
SB 118:
Sens. Harper, Burke, Tillery, Goodman, Anderson, and Kennedy
SB 118 would increase truck weights for 6-axle timber haulers up to 100,000 lbs.
Assigned to Senate Transportation Committee on 2/10/2021.
---
NOT A MEMBER OF GEORGIA FARM BUREAU? JOIN TODAY!
The Georgia Farm Bureau Federation has a membership of almost 250,000 and serves as state's the largest general farm organization. Our goal is to provide leadership and assistance to the agricultural sector, to promote farm products, to aid in ag-related procurement, to be a spokesman for the farmer in the legislative arena, to be a leader in the development and expansion of farm markets, and to strive for more agricultural research and educational funds and facilities.
With members in all 159 Georgia counties, Georgia Farm Bureau is dedicated to promoting and improving agriculture in our counties, state and nation and in continually improving and expanding our service-to-member programs which serve to enhance the quality of life for all Georgians.
Membership in Georgia Farm Bureau is open to everyone. You don't need to be a farmer or have insurance with us to join Farm Bureau!
If you would like to become a member of Georgia Farm Bureau, you can start your membership online right now! We have a simple application process, and you can be our newest member in just a couple of minutes. Click the button below or use our County Office Locator to find the office nearest you.
---
Sign up for Legislative Alerts to receive this information by email. Legislative Alerts go out every Friday during session and occasionally for special alerts when necessary.
---
Public Policy Department Staff
Alex Bradford, Director
Raynor Churchwell, Agricultural Programs Manager
Katie Duvall, Advocacy and Policy Development Coordinator
Renee Jones, Operations Coordinator
Jake Matthews, Governmental Affairs Specialist
Jeremy Taylor, Agricultural Programs Specialist