Legislative Session Report Week 2


January 22, 2021
---
A WEEK OF APPROPRIATIONS HEARINGS AT THE CAPITOL
The halls of the state capitol were mostly empty this week as legislators did not use any of their 40 legislative days. The General Assembly remained in recess as the Joint Appropriations Committee met to discuss the amended FY21 and FY22 budgets. Chaired by Rep. Terry England and Sen. Blake Tillery, the joint committee heard testimony from agency heads and state experts who presented changes to their budgets. Due to better than expected economic performance during the latter months of 2020, the Governor announced last week there would be no cuts to state agencies under his budget proposal.
Georgia Farm Bureau (GFB) staff will continue to monitor and evaluate the proposed budget while advocating for funding of agricultural institutions, agencies, and youth development programs supported by GFB policy.
State lawmakers will return to the capitol on Tuesday, January 26th for the 5th legislative day. GFB will be present each day of the 40-day legislative session to monitor, protect, advocate and report on issues impacting our members and Georgia agriculture.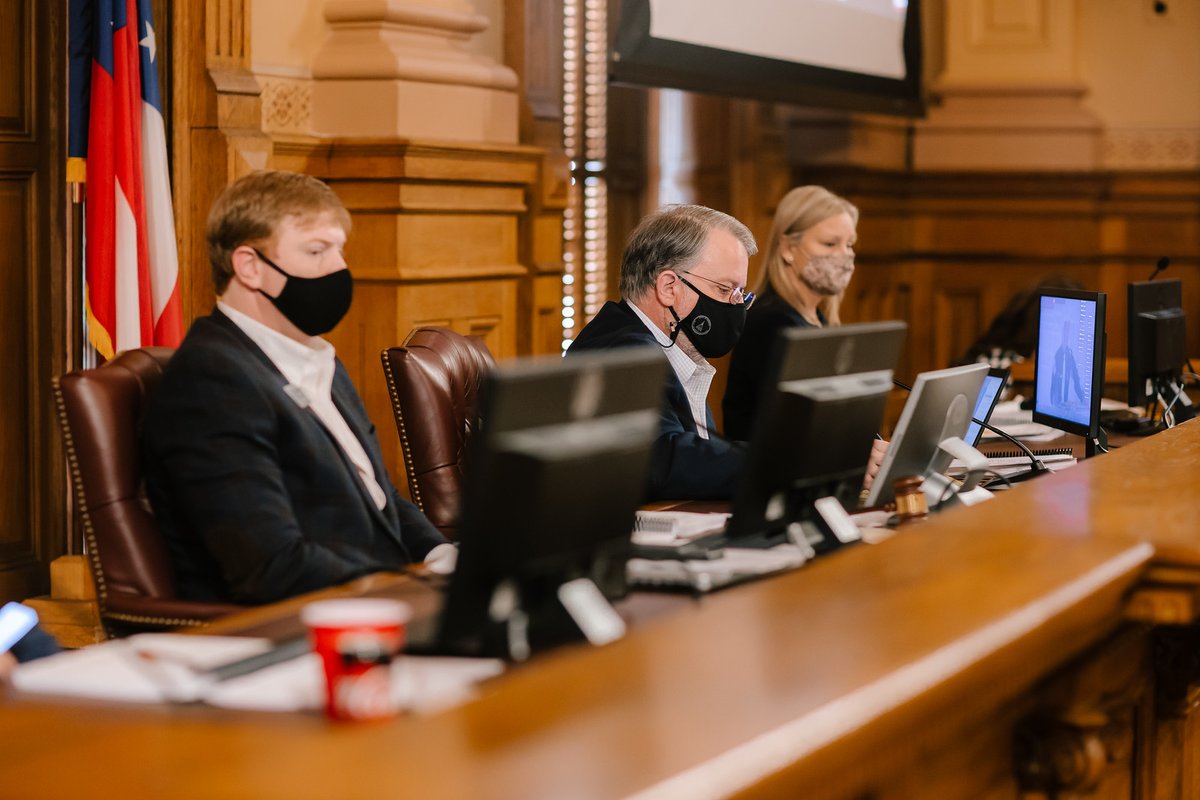 ---
JOINT BUDGET APPROPRIATIONS COMMITTEE CONVENES
The Joint House and Senate Appropriations Committee convened this week, kicking off the process of evaluating and adjusting the Governor's amended FY21 and FY22 budget proposals. There was an air of optimism as agency heads and others presented their budget requests following the challenges faced in 2020, which Georgia has weathered surprisingly well economically. Included in the Governor's proposal is:
$40 million to establish the Rural Innovation Fund for rural businesses and entrepreneurs;
$20 million in AFY21 and $10 million per year moving forward for rural broadband grants to improve internet access;
$76 million to implement Georgia Pathways and Access for affordable healthcare;
$500,000 for the Department of Agriculture and $340,000 for the Forestry Commission to replace vehicles;
$1,750,000 in one-time funds to the Georgia Ag Expo Authority to mitigate the operational impact of COVID-19;
$505,727 for the Area Teacher Program, Extended Day/Year, Young Farmers, & Youth Camps; and
$25,000 increase for the Forestland Protection Act grant reimbursements.
Agriculture Commissioner Gary Black presented to the committee Tuesday, providing positive news and requesting additional funds for some programs. As you recall last year, some state farmers markets were under threat of closure to meet budget cut orders. Through some local partnerships and new uses, there was significant improvement in several of the lowest performing markets, spurring a push to keep them open. Following changes to the GATE program in 2018 (moving to a 3-year card at a cost of $150), the card fees paid by farmers generated $1,791,225 in revenue in FY20 and $1,350,000 projected for FY21. In addition to the $678,894 appropriated in the FY21 budget for GATE administration, Black requested an additional $530,000 be returned to the Department to enhance GATE compliance and infrastructure. While the GATE Compliance Officers were disbanded in 2020, the Department hopes to use a portion of the GATE card fees to subscribe card holders to the Market Bulletin, where compliance education will be featured content. Additionally, Black requested a total of $653,050, increased from the proposed $200,000, be allocated to the hemp program for additional staff positions and equipment. Lastly, Black requested $241,740 generated by the soil amendment program, administered by GDA, be appropriated for personnel needs.
The full presentation by Commissioner Black can be watched by clicking here starting at the 2:07:00 mark.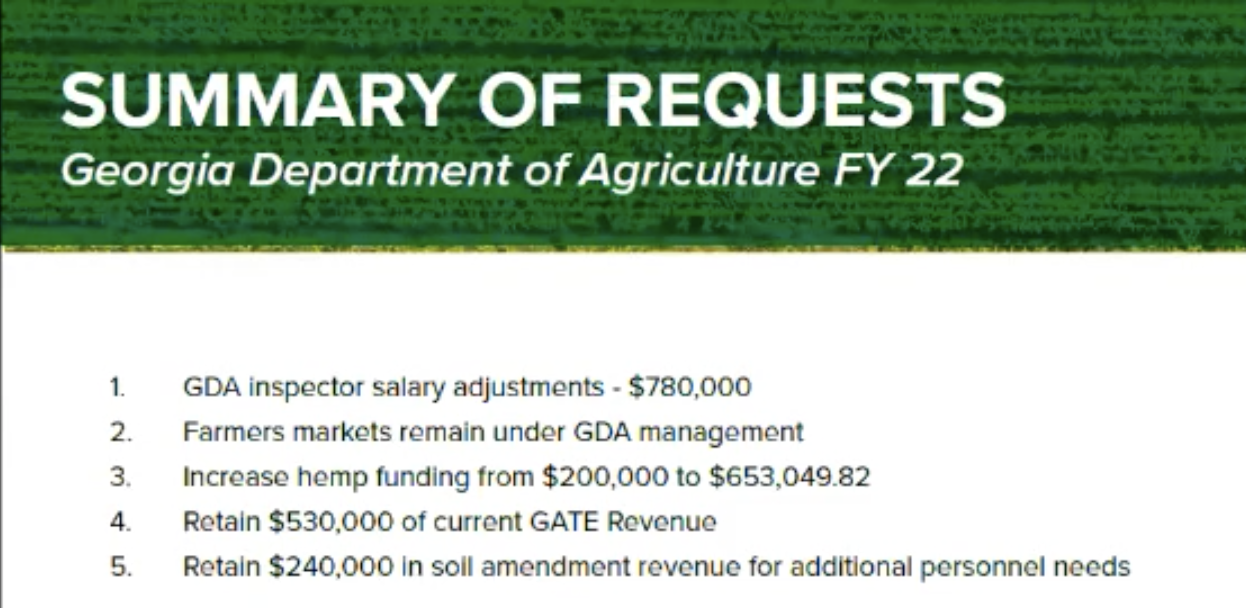 ---
ROBERT DICKEY TO LEAD HOUSE AG COMMITTEE
Following last week's announcement of new committees and leadership in the Georgia State Senate, the House of Representatives has named its new committees. Of the forty-one committees, thirteen of them have new chairs - including the House Agriculture & Consumer Affairs Committee.
The House Ag Committee, previously chaired by Georgia Farm Bureau (GFB) President Tom McCall, will now be led by seasoned veteran of the committee, friend of Farm Bureau, and 2019 Georgia Farmer of the Year, Rep. Robert Dickey (R-Musella).
"I am humbled and honored by this appointment to chair the Agriculture and Consumer Affairs Committee," said Rep. Dickey. "Speaker Ralston and the Committee on Assignments have given me big shoes to fill following the 16-year chairmanship of Georgia Farm Bureau President Tom McCall. As a fourth generation farmer, I am fortunate to be able to continue my family's legacy and be a voice for agriculture and agri-business. I look forward to working with State Senator Larry Walker (R-Perry) to shape and guide agricultural policy in our state as we continue to keep Georgia's ag economy strong and vibrant not only for producers but agribusiness and our consumers. This committee will continue to keep agriculture and consumer interests at heart."
Other members of the committee include Susan Holmes (R-Monticello), Steven Meeks (R-Screven), Patty Bentley (D-Butler), Jon Burns (R-Newington), Mike Cameron (R-Rossville), Beth Camp (R-Concord), John Corbett (R-Lake Park), Winfred Dukes (D-Albany), Emory Dunahoo (R-Gillsville), Terry England (R-Auburn), Don Hogan (R-St. Simons Island), Rick Jasperse (R-Jasper), Tom Kirby (R-Loganville), Dominic LaRiccia (R-Douglas), Rob Leverett (R-Elberton), Regina Lewis-Ward (D-McDonough), Marvin Lim (D-Norcross), Danny Mathis (R-Cochran), Rebecca Mitchell (D-Snellville), Clay Pirkle (R-Ashburn), Mitchell Scoggins (R-Cartersville), Jan Tankersley (R-Brooklet), Darlene Taylor (R-Thomasville), Mandisha Thomas (D-Atlanta), Sam Watson (R-Moultrie), Matthew Wilson (D-Brookhaven), and Bill Yearta (R-Sylvester).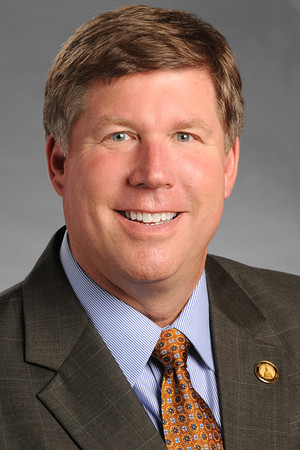 ---
NATIONAL LEADERSHIP AND APPOINTMENTS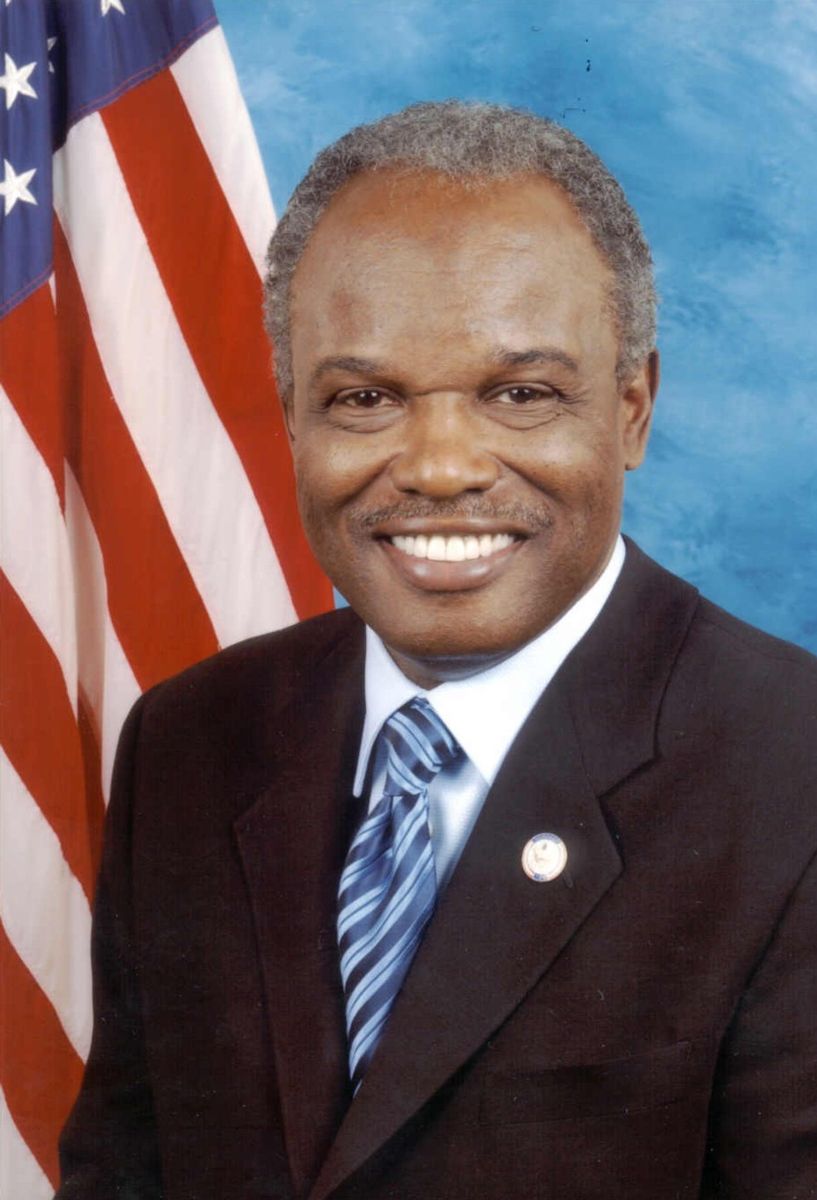 On December 3, 2020, House Democrats released the names of members who will serve as committee chairs during the 117th Congress. Georgia Congressman David Scott (D) was chosen to lead the House Agriculture Committee, which is expected to begin discussions around the next farm bill. Georgia Representative Sanford Bishop (D) will once again be Chairman of the House Appropriations Subcommittee on Agriculture. Congressman Austin Scott (R) will serve as Ranking Member (the top Republican) on the House Agriculture Commodity Exchanges, Energy, and Credit Subcommittee.
On December 10, 2020, then President-Elect Joe Biden tapped Tom Vilsack to lead the United States Department of Agriculture. Vilsack is no stranger to the position as he previously served as Secretary of Agriculture under the Obama administration from 2009-2017. Earlier this week, a number of prominent agriculture organizations, including the American Farm Bureau Federation, sent a letter to the U.S. Senate Committee on Agriculture, Nutrition, and Forestry calling for his swift confirmation.
---
2020 RUNOFF ELECTION RESULTS
In a highly contested election that was seemingly overshadowed by the events at the Capitol on January 6, sitting U.S. Senators David Perdue (R) and Kelly Loeffler (R) were both unseated in the historic double-barreled runoff election on January 5. Democrat Jon Ossoff was elected to replace Perdue for a six-year term, and Rev. Raphael Warnock, also a Democrat, was elected to replace Loeffler. Sen. Warnock will be serving the remainder of former Sen. Johnny Isakson's term, and his seat will be up for reelection in 2022. Both Ossoff and Warnock were sworn into office by Vice President Kamala Harris earlier this week.
In addition to the two U.S. Senate seats, Georgia also held a runoff for the District 4 Public Service Commission seat. Incumbent Lauren "Bubba" McDonald (R) defeated Daniel Blackman (D) for another six-year term.

---
AMERICAN FARM BUREAU FEDERATION ESTABLISHES 2021 POLICIES
Last week, farmer and rancher delegates to the American Farm Bureau Federation's (AFBF) 102nd Annual Convention adopted policies to guide the organization's work in 2021. Key topics ranged from farm diversity to farm labor and dairy policy to livestock marketing. For the first time in AFBF history, delegates met and voted virtually due to COVID-19.
"Our Farm Bureau delegates showed that no challenge, not even a pandemic, will keep them from working to improve the lives of America's farmers and ranchers," said AFBF President Zippy Duvall. "Their work not only sets policy for 2021, it will also serve as a guide for AFBF as we prepare to work with a new president and a new Congress to ensure we continue to lead the world in producing healthy and safe food, fiber and fuel."
Recognizing the importance of broadening access to agriculture, delegates voted to encourage increased racial diversity in farming. This new policy calls for increased funding for USDA programs that make inheriting farms easier and increases funding to promote diverse farmland ownership.
Delegates updated labor policy, emphasizing the importance of reforming the H-2A program by expanding the program to provide visa workers for both seasonal and year-round employment. An expanded program would address workforce shortages and extend the program to operations that do not currently qualify to employ guest workers, like dairy farms.
The Holcomb plant fire and the COVID-19 pandemic caused meat prices to skyrocket while the price paid to farmers dropped. AFBF delegates voted to provide stability in markets by supporting efforts to increase negotiated sales in fed cattle markets. Delegates also called for increased transparency in livestock pricing.
Milk price volatility was exacerbated by the COVID-19 pandemic, resulting in financial damages to dairy farmers in excess of $2.5 billion. Delegates updated dairy policy to call for re-examining the 2018 farm bill's modification to the milk price formula, improving equity in USDA's Federal Milk Marketing Order revenue sharing pools, and reaffirmed their support for allowing dairy farmers the opportunity to cast an individual and confidential ballot during milk order referendums.
There are new policies on crop insurance. Delegates called on the Risk Management Agency to improve hurricane protection coverage, including but not limited to, providing protection against both hurricane-force winds and excessive precipitation. Delegates also supported modifying specialty crop insurance to minimize food waste.
Beyond policy changes, delegates also elected members to serve on the AFBF board of directors.
Fourteen state Farm Bureau presidents were re-elected to two-year terms to represent their regions on the AFBF board of directors and five were elected to the board for the first time, including Georgia Farm Bureau President Tom McCall.
Midwest Region
Richard Felts, Kansas
Rich Guebert Jr., Illinois
Craig Hill, Iowa
Kevin Krentz,* Wisconsin
Randy Kron, Indiana
Mark McHargue,* Nebraska
Kevin Paap, Minnesota
Northeast Region
David Fisher, New York
Joseph Tisbert,* Vermont
Southern Region
Jeff Aiken, Tennessee
Russell Boening, Texas
Shawn Harding, North Carolina
Jim Harper, Louisiana
Tom McCall,* Georgia
Mike McCormick, Mississippi
Rodd Moesel, Oklahoma
Western Region
Todd Fornstrom, Wyoming
Jamie Johansson,* California
Stefanie Smallhouse, Arizona
*Denotes state Farm Bureau president elected to the board for the first time.
---
2021 GEORGIA FARM BUREAU DAY AT THE CAPITOL CANCELED
Due to a rise in COVID-19 cases and other uncertainties in the state's capital, Georgia Farm Bureau has made the executive decision to cancel the annual Farm Bureau Day at the Capitol event, originally scheduled for February 9, 2021 in Atlanta. Please mark your calendars for next year's event, expected to take place on February 8, 2022.
---
2021 GEORGIA AG FORECAST
Georgia Farm Bureau is a sponsor for this annual seminar, which will be held virtually and is free to attend for 2021. It will take place on Friday, January 29, beginning at 9:30 a.m. Ag Forecast shares the latest research and information from UGA faculty to help farmers and agribusinesses in Georgia's No. 1 industry. Keynote topics are agritourism and the impact of COVID-19 on Georgia farmers. Breakout sessions will cover: livestock and poultry; cotton, peanuts grains and oilseeds; green industry and vegetables; fruits and tree nuts; and forestry and land taxation. Click here to register.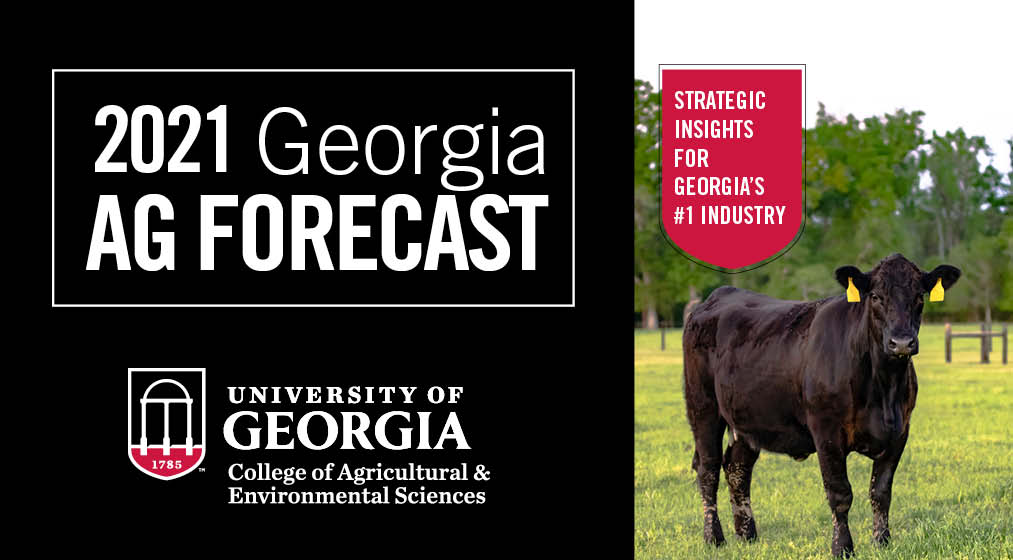 ---
Georgia Farm Bureau Public Policy Department Staff
Jeffrey Harvey, Director
Joe McManus, Assistant Director
Alex Bradford, State Affairs Coordinator
Raynor Churchwell, Agricultural Programs Specialist
Tripp Cofield, National Policy Counsel
Katie Duvall, Advocacy and Policy Development Coordinator
Renee Jones, Office Coordinator
Jake Matthews, Governmental Affairs Specialist
Jeremy Taylor, Agricultural Programs Specialist
** Photos courtesy of Georgia House and Senate photography gallery.