Legislative Session Report Week 3


January 29, 2021
---
GENERAL ASSEMBLY CONTINUES BUDGET WORK
The General Assembly returned to the Capitol on Tuesday for the 5th day of the legislative session. The legislature met through Friday this week putting them at day 8 of the 40-day session. The pace at the Capitol has picked up some, with both the House and Senate taking up proposed legislation. Appropriations hearings resumed this week as lawmakers continued to amend the FY21 budget and set the FY22 budget. On Thursday the House passed the $26.6 billion amended FY21 budget (reflecting a 2.5% increase) and transmitted it on to the Senate. In addition, committees have begun to meet, with the Senate Agriculture and Consumer Affairs Committee convening on Thursday for the first time this session.
Legislators will return to the Gold Dome on Monday, February 1st for day 10 and are scheduled to work through Thursday, February 4th. Georgia Farm Bureau (GFB) staff will be at the Capitol to monitor and protect the issues important to our members and Georgia agriculture. To read which bills have been proposed affecting Georgia agriculture, please see the Bills of Interest section below.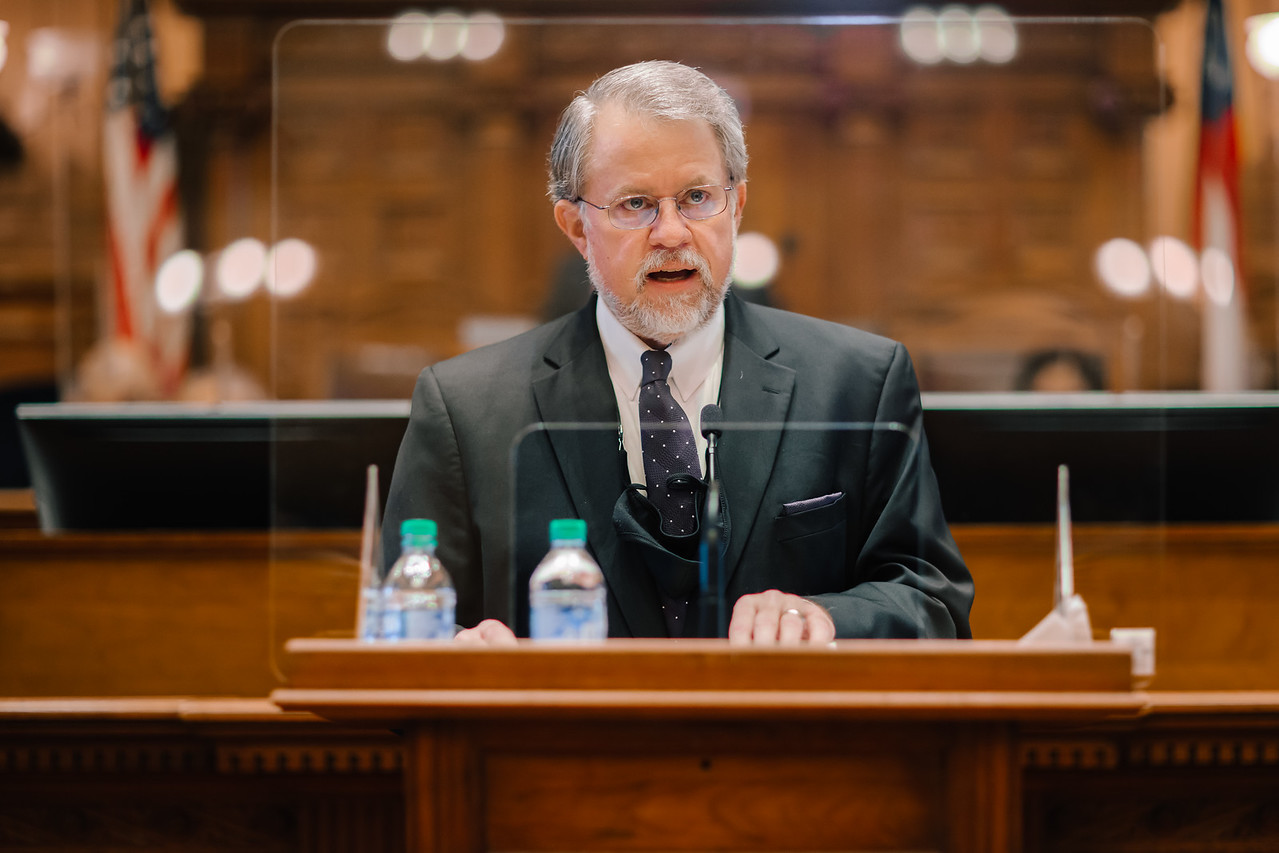 House Appropriations Chairman Terry England (R-Auburn) presents the Amended FY21 Budget on Thursday.
---
RURAL CAUCUS CONVENES; GEORGIA FARM BUREAU TO HOST NEXT WEEK'S LUNCHEON
The Rural Caucus, the 2nd largest caucus of the General Assembly behind the majority caucus, convened Wednesday for their first meeting of the year. The group is made up of legislators representing our rural communities and agricultural interests, and this weekly meeting is an effective way for them to discuss pertinent policy ideas and hear presentations from groups like Georgia Farm Bureau (GFB). This week was hosted by GFB's close ally, Georgia Agribusiness Council, and the conversation largely centered around the innovative work of farmers that stepped up in 2020 to provide fresh Georgia produce to families statewide. One shining example was the work of Rep. Kasey Carpenter (R-Dalton) who created Georgia Gathered Goods produce boxes — utilizing partners like Rep. Sam Watson (R-Moultrie), Drew Echols of JAEMOR Farms, and others — to provide local food options with pop-up markets throughout the summer.
Next week's meeting will be hosted by Georgia Farm Bureau.

Georgia Agribusiness Council President Will Bentley speaks to the Rural Caucus
---
SENATE AG COMMITTEE MEETS; UGA CAES DEAN PLACE VISITS
The Senate Agriculture and Consumer Affairs Committee met Thursday for the first time of the new session. The new chairman, Sen. Larry Walker (R-Perry), began the meeting with brief introductions from all committee members, including several freshmen Senators.
The committee heard from The University of Georgia's new dean of The College of Agricultural and Environmental Sciences (CAES), Dr. Nick Place. Having grown up on a farm and previously serving as dean and director of the Florida Cooperative Extension Service, Dr. Place is well prepared to lead the way for CAES in the coming years. He discussed his goal of keeping Georgia on the cutting edge of agriculture to ensure it remains the number one industry in the state.
Georgia Farm Bureau (GFB) looks forward to working with Dr. Place and CAES in promoting and protecting our state's agriculture industry. To learn more about Dr. Place, watch GFB's "Digging In" virtual series featuring an interview with the Dean.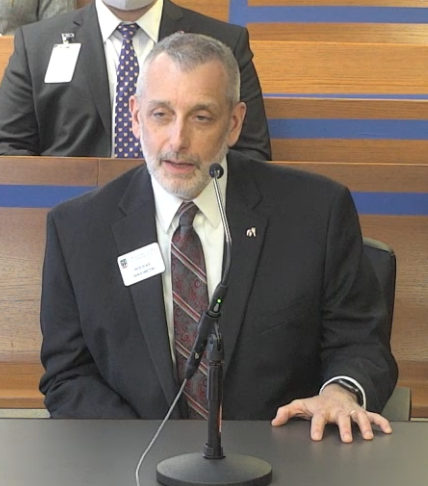 UGA CAES Dean Nick Place speaks to the Senate Agriculture and Consumer Affairs Committee
---
"DIGGING IN" WITH THE NEW SENATE AG CHAIRMAN
Georgia Farm Bureau's (GFB) "Digging In" virtual series was created last summer to provide our membership with an alternative to the many in-person meetings and events that were canceled due to the Covid-19 pandemic. As access to the State Capitol continues to be limited this session, we are bringing the Capitol to you through the next installation in our "Digging In" series, featuring a conversation between the newly minted Senate Agriculture and Consumer Affairs Chairman Larry Walker (R-Perry) and GFB President Tom McCall.
Have a question about the Georgia General Assembly or the Senate Agriculture and Consumer Affairs Committee? Click here or reply to this email for a chance to have your question featured in the next installation of "Digging In" with Sen. Larry Walker!
---
USDA SUSPENDS CORONAVIRUS FOOD ASSISTANCE PROGRAM (CFAP) PAYMENTS
In accordance with the White House memo, Regulatory Freeze Pending Review, the United States Department of Agriculture (USDA) has suspended the processing and payments under the Coronavirus Food Assistance Program (CFAP) - Additional Assistance and has halted implementation until further notice. Farm Service Agency local offices will continue to accept applications during the evaluation period, which ends on February 26, 2021.
American Farm Bureau Federation President Zippy Duvall commented on the USDA suspension of CFAP payments.
"The pandemic has taken an unprecedented toll on American agriculture, and the Coronavirus Food Assistance Program has provided a lifeline for farmers and ranchers across the country. Many growers who previously did not qualify for assistance continue to suffer losses and need the help CFAP provides.
"We recognize the new administration's desire to review important farmer and rancher assistance programs and we urge USDA to take into consideration our comments on how to improve such programs. We appreciate that CFAP applications will continue to be accepted, and we encourage the swift resumption of distribution of resources to the people who are working to keep America's pantries stocked."
---
BILLS OF INTEREST
HB 90:
Reps. Williamson, Burns, Dickey, Hatchett, Morris, Watson
HB 90 seeks to address an issue that the existing 1939 statute does not appropriately cover modern forestry practices with in regards to mill purchases of cut timber and the chain of liability that follows such transactions. The legislation is supported by both the Georgia Bankers Association and the Georgia Forestry Association.
Assigned to House Judiciary Committee on 1/26/2021.
HB 139:
Reps. Mainor, Dukes, McClain, Mallow, Thomas
This bill would prohibit trains from blocking any traffic crossing for longer than 15 minutes (with exceptions for safety reasons), and also require signage at crossings providing a telephone number to report such instances.
Assigned to House Transportation Committee on 1/28/2021.
HB 150:
Reps. Williamson, Hatchett, Kelley, Frazier, Parsons, Smith
In a concerning trend, some state and local authorities in the U.S. have adopted measures banning the connection of certain fuels (propane and natural gas) in new construction in an effort to reach their "carbon free" goals. HB 150 would prohibit government entities in Georgia from banning the connection of any utility service based on the type or source of fuel. GFB supports this bill, as many agricultural producers rely on these resources.
Assigned to House Energy, Utilities, and Telecommunications Committee on 1/28/2021.
SB 29:
Sen. Anavitarte
This bill would require those wishing to vote in a Georgia election by absentee ballot to include a photocopy of their driver's license, voter ID card, U.S. passport, government employee ID, military ID card, or tribal identification card both when applying for an absentee ballot application and when returning it. Members of the military and overseas voters would be exempt from this requirement.
Assigned to House Ethics Committee on 1/28/2021.
SB 30:
Sens. Beach, Harbison
Senate Bill 30 would provide for pari-mutuel horse racing in the state at a limited number of licensed equestrian centers, create the Georgia Horse Racing Commission, and provide for the comprehensive regulation of pari-mutuel horse racing and related activities.
Assigned to House Regulated Industries and Utilities Committee on 1/28/2021.
---
2021 GEORGIA FARM BUREAU DAY AT THE CAPITOL CANCELED
Due to a rise in COVID-19 cases and other uncertainties in the state's capital, Georgia Farm Bureau has made the executive decision to cancel the annual Farm Bureau Day at the Capitol event, originally scheduled for February 9, 2021 in Atlanta. Please mark your calendars for next year's event, expected to take place on February 8, 2022.
---
2021 GEORGIA AG FORECAST
Georgia Farm Bureau is a sponsor for this annual seminar, which will be held virtually and is free to attend for 2021. It will take place on Friday, January 29, beginning at 9:30 a.m. Ag Forecast shares the latest research and information from UGA faculty to help farmers and agribusinesses in Georgia's No. 1 industry. Keynote topics are agritourism and the impact of COVID-19 on Georgia farmers. Breakout sessions will cover: livestock and poultry; cotton, peanuts grains and oilseeds; green industry and vegetables; fruits and tree nuts; and forestry and land taxation. Click here to register.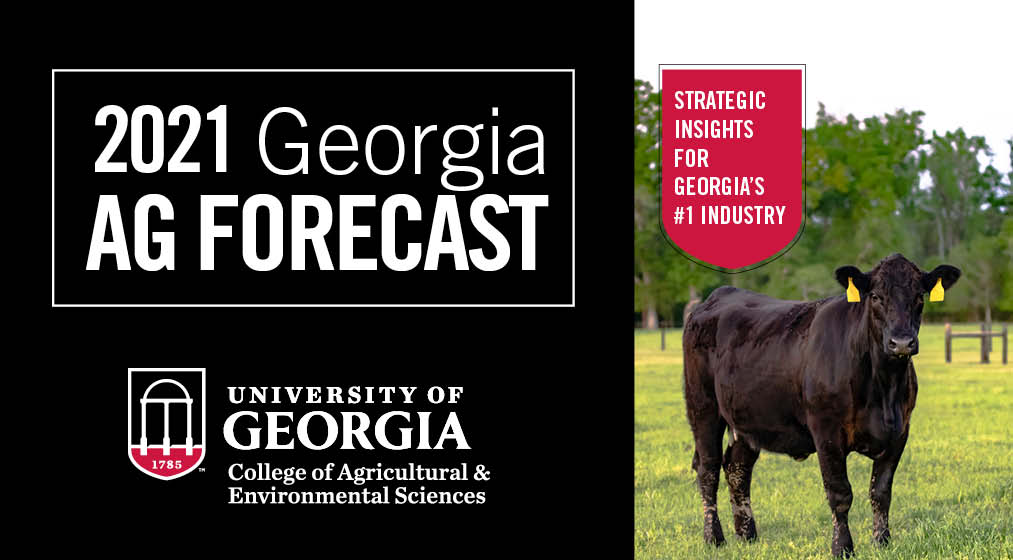 ---
NOT A MEMBER OF GEORGIA FARM BUREAU? JOIN TODAY!
The Georgia Farm Bureau Federation has a membership of almost 250,000 and serves as state's the largest general farm organization. Our goal is to provide leadership and assistance to the agricultural sector, to promote farm products, to aid in ag-related procurement, to be a spokesman for the farmer in the legislative arena, to be a leader in the development and expansion of farm markets, and to strive for more agricultural research and educational funds and facilities.
With members in all 159 Georgia counties, Georgia Farm Bureau is dedicated to promoting and improving agriculture in our counties, state and nation and in continually improving and expanding our service-to-member programs which serve to enhance the quality of life for all Georgians.
Membership in Georgia Farm Bureau is open to everyone. You don't need to be a farmer or have insurance with us to join Farm Bureau!
If you would like to become a member of Georgia Farm Bureau, you can start your membership online right now! We have a simple application process, and you can be our newest member in just a couple of minutes. Click the button below or use our County Office Locator to find the office nearest you.
---
Georgia Farm Bureau Public Policy Department Staff
Jeffrey Harvey, Director
Joe McManus, Assistant Director
Alex Bradford, State Affairs Coordinator
Raynor Churchwell, Agricultural Programs Specialist
Tripp Cofield, National Policy Counsel
Katie Duvall, Advocacy and Policy Development Coordinator
Renee Jones, Office Coordinator
Jake Matthews, Governmental Affairs Specialist
Jeremy Taylor, Agricultural Programs Specialist
** Photos courtesy of Georgia House and Senate photography gallery.