Agriculture + Lifestyle
5-Bean Veggie Soup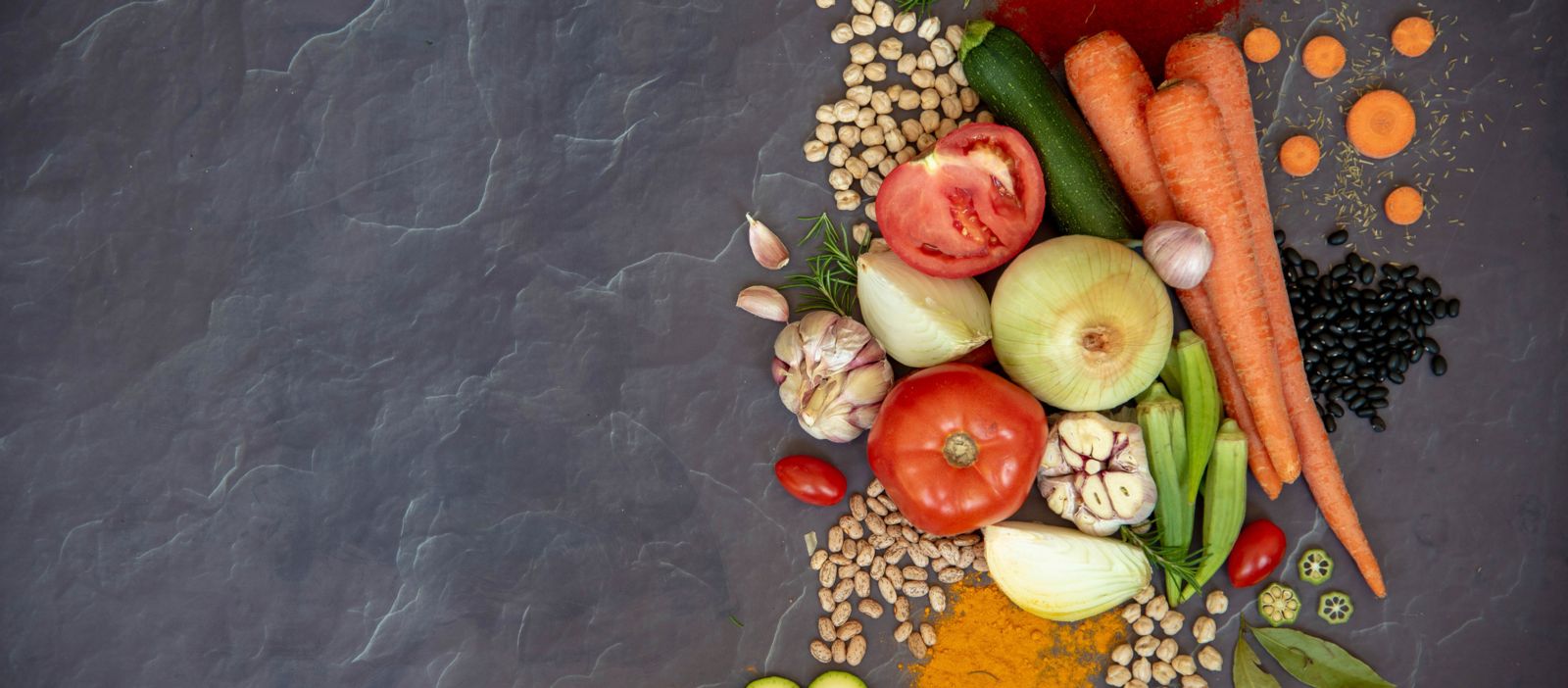 Soon there will be a cool breeze blowing and sweater weather will be just on the horizon. That means, it's time to cozy up to a warm bowl of soup. Whether loaded with locally sourced veggies or hearty with helpings of sausage, get inspired by what's available at Georgia's Certified Farm Markets. Check out gfb.ag/CFM to locate these items and more.
Yellow Onion
Calhoun Produce
Ashburn, GA
229-273-1887
Carrots, Rosemary, Thyme, Turmeric
Country Gardens Farm
Newnan, GA
770-251-2673
Celery
Fritchey's Gardens & Farm Fresh Market
Clarkesville, GA
706-754-4851
facebook.com/fritcheysfarmmarket
Zucchini
Jacobs Produce
Rocky Ford, GA
912-863-7522
Vegetable Broth & Heritage Sausage
Jensen Reserve
Loganville, GA
770-363-4487
Tomatoes
Osage Farms
Dillard, GA
706-746-7262
Spinach & Kale
Nu Sunrise Farm
Griffin, GA
478-808-9872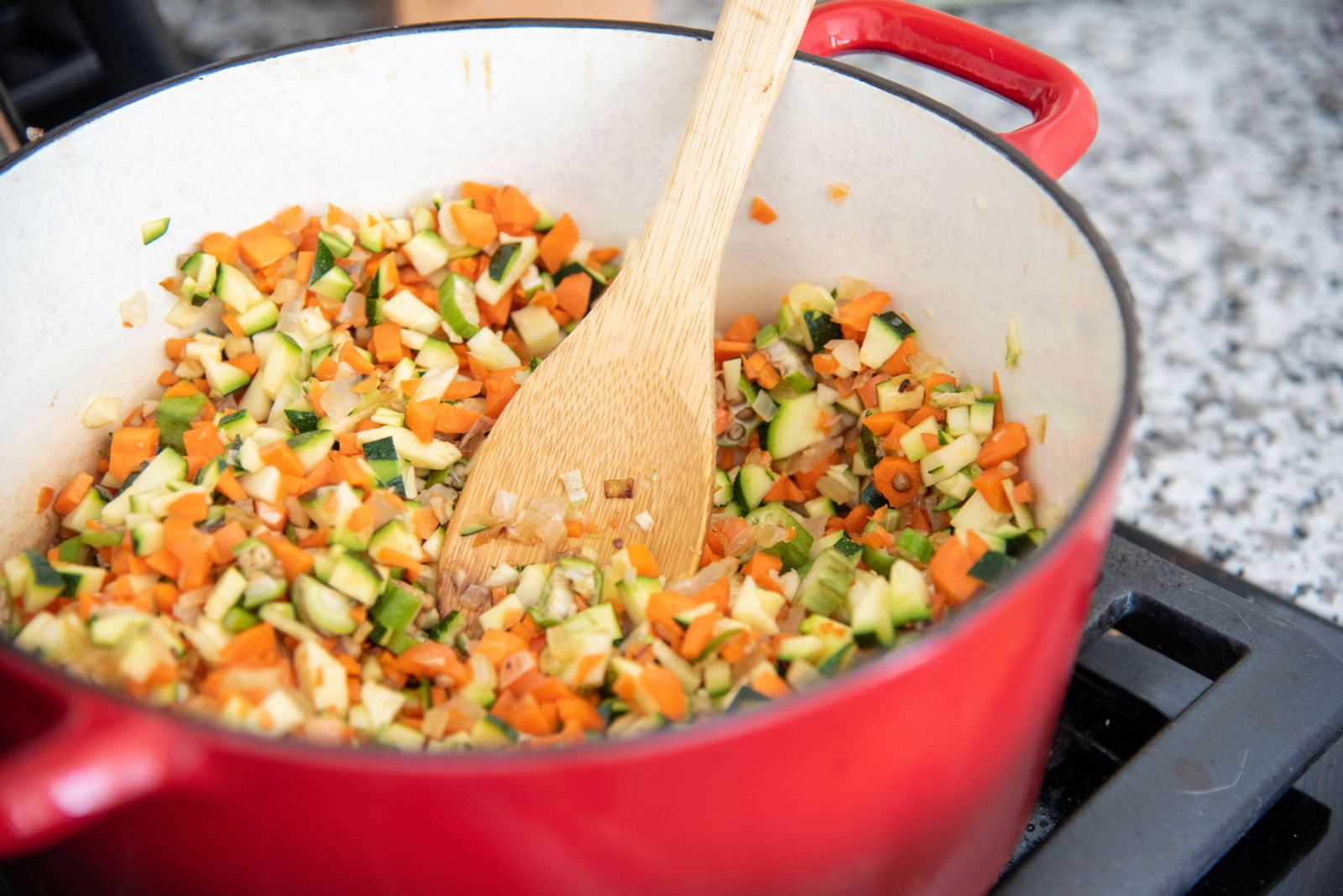 5-Bean Veggie Soup
Ingredients
2 1/2 cups of dried beans (we used 1/2 cup each of garbanzo, kidney, navy, pinto and black beans)
2 tbsp olive oil
1 large yellow onion, diced (Calhoun Produce)
3 cloves garlic, minced
2 large carrots, diced (Country Gardens Farm)
2 stalks celery, diced (Fritchey's Farm Fresh Market)
2 small zucchini, diced (Jacobs Produce)
7 cups vegetable broth (Jensen Reserve's Veggie Bouillon)
12 ounces crushed fire-roasted tomatoes (fresh from Osage Farms or canned from Hillside Orchard Farms)
2 1/2 cups chopped greens (we used spinach and kale from Nu Sunrise Farm)
2 bay leaves
2 sprigs of rosemary (Country Gardens Farm)
2 tbsp thyme (Country Gardens Farm)
3.4 tsp turmeric, optional (Country Gardens Farm)
3/4 tsp paprika
1 1/2 tsp salt
3/4 tsp pepper
1/8 tsp cayenne
Optional: 1/2-pound Heritage Sausage (Jensen Reserve)
Directions
Rinse 2 1/2 cups mixed beans well. In a large pot, cover beans with water (3 inches above beans) and add a pinch of salt. Bring to a boil for 2-3 minutes. Remove from heat, cover and let soak for 1-1.5 hours. Drain and rinse well.
In a large stock pot, heat olive oil to medium-high. Saute diced onion and garlic 5-6 minutes, or until translucent and slightly softened, stirring frequently.
If adding sausage, saute over medium heat in a separate pan. When finished cooking, remove from heat.
Add diced carrots, celery and zucchini to onion and garlic mixture. Saute additional 6-7 minutes or until slightly softened.
Add soaked beans, broth, tomatoes, all spices and sausage (if using). Simmer for about 45 minutes, or until all ingredients are fork tender. Stir in chopped greens about 5 minutes before soup is ready. (Be sure to remove bay leaves before serving.)
---
Posted: 11/20/2020 in Certified Farm Markets, Food
---
Comments:
No comments have been posted.
HTML not allowed, max characters 255, * denotes required field.