Georgia Neighbors
Agriculture + Lifestyle. Discover the people, places and impact of ag in our great state.
Fresh Fixins with Chef Jamie Keating: Coca-Cola Glazed Braised Pork Medallions
Created by Chef Jamie Keating with Epic Restaurant in Columbus, Georgia
"Although we don't know what tailgating season may look like, I like how we take something rustic and give it a bump of elegance. Take what we produce in this recipe and create your own magic with it."

Coca-Cola Glazed Braised Pork Medallions
Serves four
Braised Pork
Ingredients
1 lb pork butt, large diced
4 tablespoons vegetable oil, divided use
1/2 yellow onion, diced
1 carrot, peeled and diced
2 stalks celery, diced
1 qt ham stock
1 bay leaf
salt and pepper to taste
Cajun seasoning to taste
Pork Glaze (recipe below)
Instructions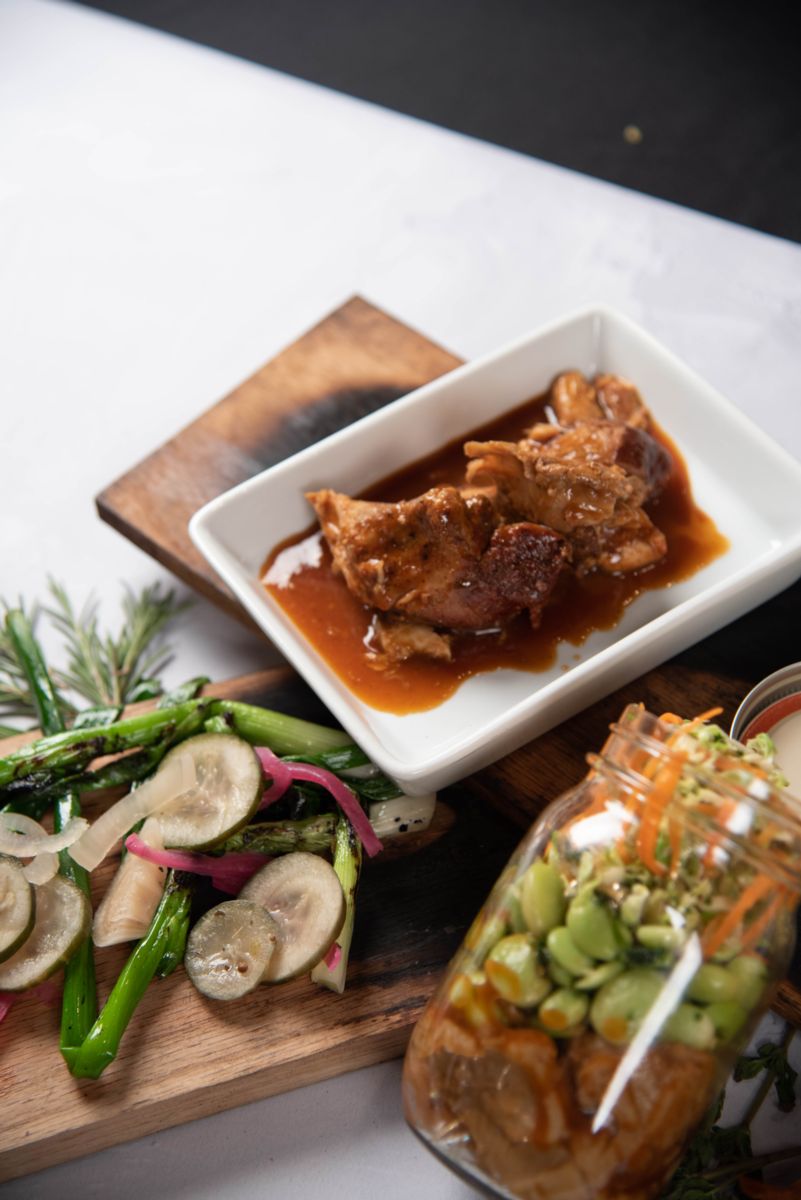 Saute carrot, celery and onions in 2 tablespoons oil and caramelize.
Add stock and season.
Saute pork butt pieces in 2 tablespoons of oil and brown.
Add to stock mixture and evenly cover with broth.
Cover and bake in 350-degree oven for 1 1/2 hours or until tender.
Toss the pork in the Pork Glaze to taste.
Pork Glaze
Ingredients
12 ounces Coca-Cola
1/2 cup honey
3 tablespoons chili powder
1 tsp cumin
1 tbsp salt
1 tsp black pepper
1/4 cup Dijon mustard
1 cup barbecue sauce
pinch of fennel seed
1 tsp roasted garlic, smashed
2 teaspoons shallots, chopped
Instructions
Mix all ingredients and bring to a boil.
Brussels Slaw
Ingredients
1 pound Brussels sprouts, sliced thin
2 tablespoons flat leaf parsley, chopped
1 cup carrot, peeled and shredded
2 tablespoons granulated sugar in the raw
¼ cup cider vinegar
½ teaspoon celery seed
½ teaspoon dry mustard powder
Kosher salt
½ teaspoon Calabrese peppers, chopped
Instructions
In a large, non-reactive bowl, combine the Brussels, parsley and carrot.
Cover this mixture and set aside. In a sauce pan, add spices, sugar and vinegar.
Bring to a boil. Cool and cover with ice water bath.
Once chilled, toss Brussels with vinegar mixture.
Adjust seasonings if needed.
Wrap and refrigerate, allowing slaw to sit for 1 hour before serving. Recommend stirring occasionally.

Beans
Ingredients
1 cup beans such as limas, pole beans or edamame
Olive oil, to taste
Kosher salt, to taste
Pinch of fresh herbs such as thyme or oregano
Instructions
In a bowl, combine all ingredients.
To Finish:
In a mason jar, layer 1/2 cup of barbecue pork, a little more glaze, 1/4 cup beans and top with slaw.
---
Posted: 09/25/2020 in Food
Tags: fresh fixins, jamie keating, pork, beans, epic restaurant, braised pork, glaze, brussels slaw, beans
---
Comments:
No comments have been posted.
HTML not allowed, max characters 255, * denotes required field.