Georgia Neighbors
Agriculture + Lifestyle. Discover the people, places and impact of ag in our great state.
Want to subscribe to Georgia Neighbors Magazine? Become a Georgia Farm Bureau member to receive Georgia Neighbors Magazine twice a year. Membership means supporting farmers and agriculture while having access to more than 300,000 discount offers. Visit gfb.ag/join.
Fresh Fixins with Georgia-Based Chef, Cissy Bates
With help from two of our Certified Farm Markets, Thompson Farms and B&G Honey Farm, Chef Cissy Bates shares the perfect recipes for a wipe-your-brow, sipping' on sweet-tea, spring afternoon. Raised in Macon, Georgia, Bates has loved cooking and baking for as long as she can remember. Inspired by a cookbook given by her aunt, Bates began her first baking business, Practically Perfect Pretzels, when she was twelve years old. After graduating from Mercer University with a degree in Entrepreneurship and Business Management, Bates continued to pursue her love of and expertise in the kitchen at the Culinary Institute of America in Hyde Park, New York.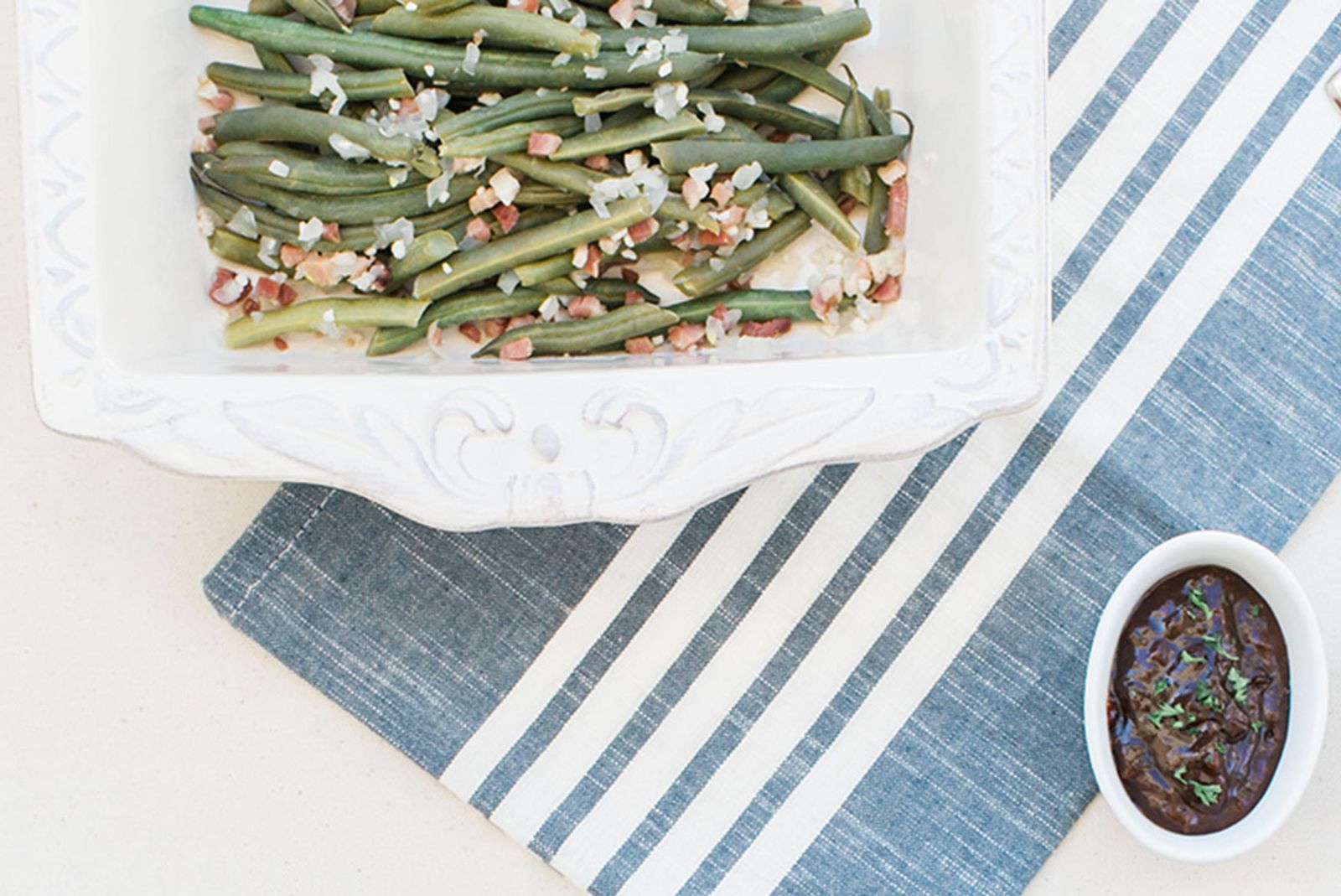 Sweet Southern Green Beans
Ingredients
2 lb. green beans
½ small, sweet onion, finely diced
4 cloves garlic, minced
1½ oz. bacon, finely chopped
salt, to taste
3 tbsp. apple cider vinegar
6 tbsp. B&G Honey Farm Wildflower Honey
1½ qt. water or unsalted chicken stock
pepper, to taste
Directions
Wash beans. Trim stem end of beans to clean. Finely dice ½ of a small onion (approximately 6 tablespoons). Mince garlic. Finely chop bacon. Sweat onion with bacon in a large pot. Add green beans and cook on medium heat for 5-7 minutes. Season with salt. Add garlic and cook for 2 minutes. Add vinegar and cook for 5 minutes. Add honey and water or unsalted chicken stock. Season with salt and pepper. Cook uncovered on medium heat for 30 minutes. Strain and serve.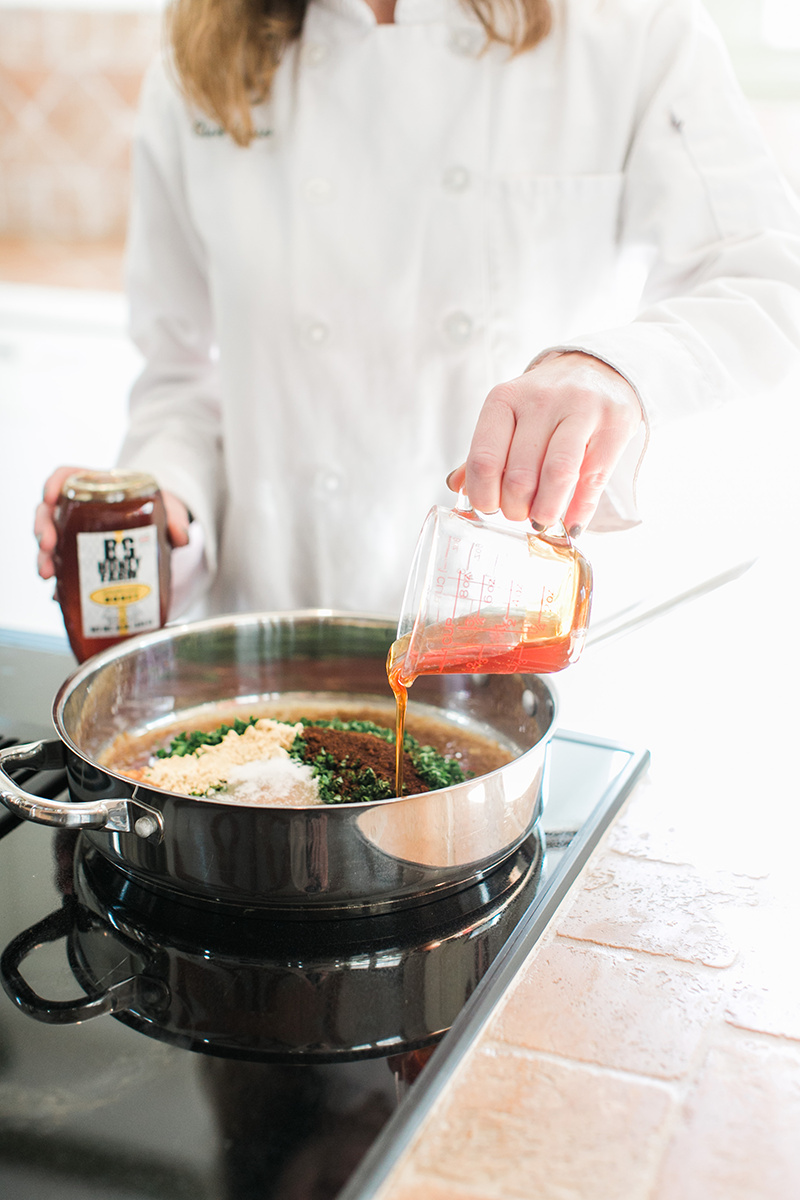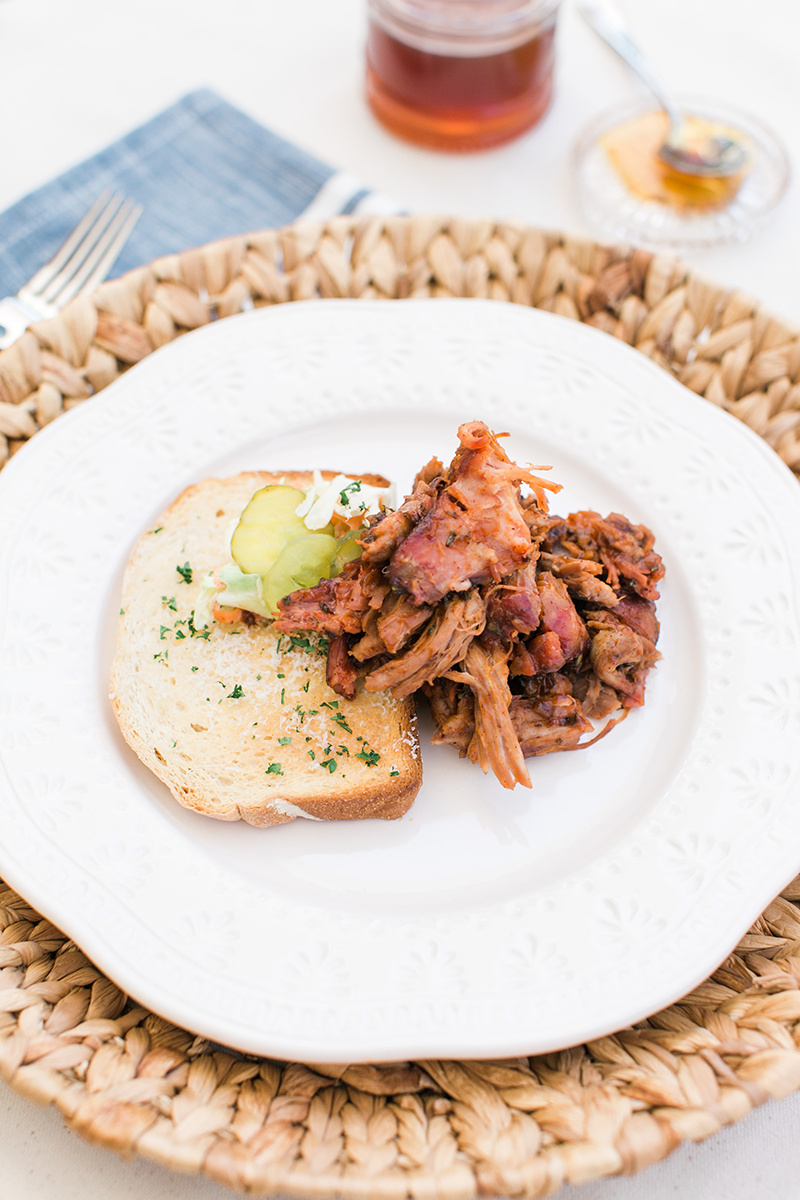 Honey BBQ Sauce
Ingredients
½ of a small, sweet onion, finely diced
¾ cup chopped fresh parsley
3 tbsp. unsalted butter
2 tbsp. Worcestershire sauce
¼ cup lemon juice
16 oz. ketchup
4 tbsp. chili powder
2 tbsp. apple cider vinegar
2 tbsp. dry mustard
2 tbsp. balsamic vinegar
6 tbsp. B&G Honey Farm Wildflower Honey
2 tbsp. sugar
Directions
Finely dice 1/2 of a small onion (approximately 6 tablespoons). Chop ¾ cup of parsley. Heat butter on medium heat in saucepan. Add onion and sauté. Add Worcestershire sauce and lemon juice. Whisk in parsley, ketchup, chili powder, cider vinegar, dry mustard, balsamic vinegar, honey and sugar. Cover and simmer on low heat for 40 minutes. Whisk often.
Smoked Pork Butt
Ingredients
6–8 lb. Thompson Farms smoked pork butt
1 cup water or unsalted chicken stock
Directions
Preheat oven to 300°F. Place butt on roasting rack in a roasting dish. Pour water or unsalted chicken stock into roasting dish. Bake for 35-40 minutes.
TIP: If making sandwiches, pull cold pork butt. Toss with BBQ sauce and 1 cup water or chicken stock. Heat in a large pot over medium-low heat for one hour, stirring often. Serve with pickles or slaw.
---
Posted: 03/20/2018 in Food, Lifestyle
Tags: Sweet, Savory, Entrée, Honey, Pork, Green beans, Certified Farm Markets, Recipes
---
Comments:
No comments have been posted.
HTML not allowed, max characters 255, * denotes required field.